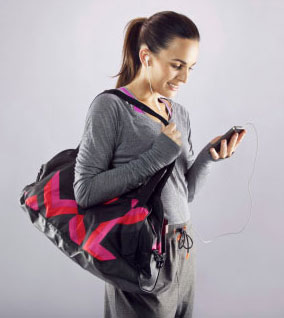 I consider myself a group fitness junkie. While I either teach or complete a group fitness class most days of the week and feel very comfortable and confident taking a wide range of classes, I remember the days when I was SUPER nervous about stepping foot into unfamiliar territory.

To this day, there are five things I do as preparation before every single group fitness class to help ensure that I get the most out of my workout and have a blast while doing it!
1. Map it out.
If I am attending a new-to-me class at a studio I have never been to, I make sure to figure out where the studio or fitness center is a day or two before the class. I also call to ask about parking. Many fitness centers have their own parking lots, but some rely on street parking or reimburse you after you pay. Are there showers? If not and you need to shower, it's good to know this ahead of time so you don't wind up in a bind! It's a huge stress reliever and timesaver to figure out those details ahead of time.
2. Pack my bag and pick out my workout gear the night before.
As an avid morning worker outer, laying out my clothing and gear the night before is crucial, so that I don't forget anything while I'm a bit groggy at 5 a.m. That being said, I pick out my clothes and gear the day before even if my workout isn't in the morning! I find that it makes it easier to get there and it's one less thing to worry about when I'm already a little nervous about trying a new-to-me class. I also do this with classes I have been to over and over again. I would hate to forget something or run late because I couldn't find something that I needed.
3. Arrive early.
Maybe it's just me, but I like to "get in the zone" before a workout. Arriving at a class 10 to 15 minutes early allows ample time to speak with the instructor (if I'm new or have an injury he or she needs to know about), get out any necessary equipment, meet my neighbors, relax, and get a good spot!
4. Set a mental and personal goal.
If you've attended a yoga class, most classes ask you to "set an intention" for your practice. I have found that this is a great habit to get into for any fitness setting, whether it's a boot camp class, BODYPUMP, yoga, Pilates, or small-group training. Setting a goal at the beginning may seem intimidating at first, but I find that it really helps me keep focus when my body is tired and my mind wants to give up on the last couple of reps.
Some example goals that help me get the most out of my workout are the following:
Having fun.

Pushing through one more rep when I want to give up.

Increasing the weight I lift by a certain number of pounds.

Listening to my body and modifying if necessary.
5. Hydrate!
It's so important to drink enough water, especially when being active. I make sure to set out my water bottle the night before with all of my other gear, and I take a few sips while I head into class. It is ideal to drink about 20 oz. of water 2 to 3 hours before class, but if you wake up and work out first thing, do what you can. Drink another 10 to 15 oz. of water 30 to 60 minutes prior to class, and attempt to drink around 8 oz. of water within a half hour of exercising. Trust me, your body needs it!
Ready to try a group fitness class at NIFS? Not a member? Try a class for free today!
This blog was written by Tara Deal Rochford, contributing writer, group fitness instructor, and author of healthy living blog Treble in the Kitchen.