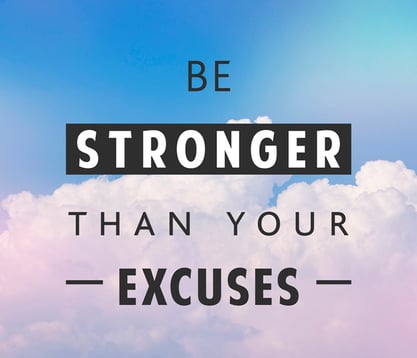 What's your motivation for working out? Eat healthy? What's your motivation to get enough sleep or practice de-stressing with yoga or foam rolling? What's your motive to get your friends and family to go on a walk or to the gym with you?
What's YOUR Motivation?
In a matter of minutes you can change your mindset. In a matter of minutes, you can be inspired to want to live a healthy lifestyle and to prevent disease and illness. But it involves commitment and no excuses.
"I have cancer." Those are the three tragic words that no one wants to hear. But I've heard my mom tell me this three times. These words changed my mind in three seconds. They are the three words that motivate me to motivate you.
Did You Know?
Some statistics about illness in America:
Approximately 38.4% of men and women will be diagnosed with cancer at some point during their lifetimes (based on 2013–2015 data from https://www.cancer.gov).
Did you know that about 1.5 million Americans are diagnosed with diabetes each year?
Did you know that about 735,000 Americans die from a heart attack each year?
Did you know that about 32.3% of males and 35.5% of female adults are obese in America?
These statistics are not meant to scare you; they are meant to bring awareness. And these are the conclusions of just a few of the studies relating to health issues in the US.
Did you know... you have the power, through your choices, to not become one of these statistics?
Where to Begin
Mapping out goals to create healthier habits for different areas of your life can be a great first step in preventing deadly diseases. So what are some things that doctors recommend you do on a daily and weekly basis to help prevent becoming one of these statistics?
Movement is Medicine: A study showed that Americans are sitting an average of 13 hours a day and sleeping an average of 8, which means they are sedentary 21 out of the 24 hours of the day. This is a leading factor for disease in America. Get up and incorporate movement into your day to get your heart beating and blood flowing. Incorporating movement for blood flow helps carry oxygen and nutrients to cells and organs for nourishment. If cells are not activated, it can lead to their mutations, which leads to cancer or other diseases.
Proper fuel: The average American eats way too much added sugar and processed foods because they are convenient. But as important as nourishment is to the cells, you want to nourish them properly with fuel. What we put into our bodies effects what nourishment and vitamins our bodies receive. Eating fruits, vegetables, healthy carbs, and lean meats gives you key nutrients to fuel properly. Eating in a caloric range that is appropriate for the body and practicing portion control is just as important. One way to figure out what your body needs is to get a BodPod or RMR assessment test to find the range best for your body's needs. In addition to food, our bodies need water to flush out toxins constantly and properly hydrate the control systems. Drink lots of water every day.
Relaxation: Stress is arguably one of the leading causes of disease. When someone is stressed, it often leads to the other healthy habits going out the window. Learning to clear the mind and de-stress can be so beneficial in the long run. There are many ways to do this, but a few cheap methods that you can incorporate daily are meditation, yoga/stretching, and foam rolling. Releasing built-up toxins in the body can aid in natural detoxification and preventing cell and organ mutations.
There are many other methods of prevention to incorporate into your lifestyle, but these are the three key factors. Make it a goal to start incorporating these and then slowly add more disease and cancer-prevention modalities.
This blog was written by Brittany Ignas, BS in Kinesiology, 200 Hour Yoga Alliance Certified, Stott Pilates Certified, and Fitness Coordinator. To find out more about the NIFS bloggers, click here.