Being the youngest of six boys is a badge of honor that I wear proudly. Growing up in my rather large family was not always easy. Most of the time money was pretty tight and we were not afforded some of the luxuries that other families may have been. Hand-me-downs and bumming lunch money from friends were standard operating procedures for a great deal of my childhood.
No matter how hard things got, there was always one constant: sport. Football and powerlifting were the two main obsessions in our household. As the youngest Maloney lad, I had many great examples to learn from and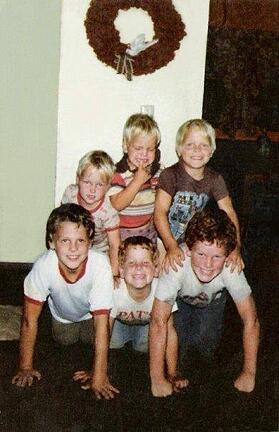 just as many expectations to live up to. You guessed it, that's me on top of that pyramid crying my eyes out about something I don't remember—I'm sure one of my older brothers had recently given me "something to cry about" (a phrase we heard a lot).
Look beyond the cuteness of this photo and you will see one of the messages of this post. Training to compete in powerlifting events provided a foundation on which I built my lifelong fitness. The stronger the foundation, the bigger and more impactful things you can stack on top. Powerlifting provided so many opportunities; we didn't know it then, but we were solidifying practices that are looked on today as the first best steps in overall fitness improvement. The stronger you are, the more accomplishments are to be had.
I want to share with you some of the huge gains training as a powerlifter has provided me over the years—not all physical, either. These are results I know you can have when you implement powerlifting training ideas into your fitness program.
Discipline
Consistent with most aspects of your life, strong discipline will always lead to strong results. It takes hard work to get better at anything, and it takes discipline to consistently provide that hard work. To follow a specific program and sound plan of attack is not always easy to do. Making the decision to get better at something and taking the proper and consistent steps to get there takes discipline. I'm not referring to only the physical stuff, but also the mental and emotional stuff as well. Those days spent in the weight room filled me with proper etiquette and respect for that environment and the discipline it took to be a part of it.
Rick Huse paints a brilliant picture of the atmosphere of those days in the weight room in his post, Old-School Weightlifting Gym Etiquette. Those rules and concepts set the tone for a strong work ethic in the gym that was ingrained early and often and has served me and countless others well along the fitness path. "There are two types of pain in this world: the temporary pain of discipline, or the permanent pain of regret" is a motto I live by, and it was learned early in life.
Absolute Strength
In this post, I referenced a "bucket" analogy that I have adopted from legendary coach Dan John. Think of absolute strength as a bucket. The bigger the bucket, the more concepts or abilities you can put into the bucket. Building absolute strength will result in gains in many other fitness aspects such as power, endurance, mobility, motor control, and sport-specific skills. The specific lifts in powerlifting, Squat, Bench Press, and Dead Lift, transfer to overall fitness capabilities in many movement patterns and sport skills. We all squat to sit down, we all push something away from our bodies, and we definitely bend over and pick up heavy things. Being stronger in these lifts not only allows you to compete at a high level in this sport, but it carries over to daily life and our pursuit of feeling better, losing weight, and gaining muscle.
I have seen the shirts that read, "Strong is the new sexy," and it might be, but strong has always been the foundation for overall athleticism and functional capabilities. I am pretty confident that without growing my "bucket" in those early days in the weight room, there are many things I wouldn't have been able to accomplish down the road and to this day. Get strong, and stay strong! Your tomorrow will thank you for it.
Accomplishment
Implementing powerlifting strategies provides a progressive message to fitness that is so important. Unless you came from the planet Krypton and wear a red cape, it is unlikely you were able to step into a squat rack and get low on a 1,000-pound barbell-bending squat. But for most of us, that is what we wanted: for that bar to bend! We had to work up to that kind of performance or ultimately pay the price of injury. When you see the weight go up after all of the hard work, there is nothing like that sense of accomplishment. Powerlifting is full of those victories, and they can happen often. There are few things more powerful than seeing your hard work pay off in big ways. The motivation and inspiration you feel when you hit a PR (personal record) or when you add that extra 10 pounds you were unable to do last week is so impactful and will keep you striving for more.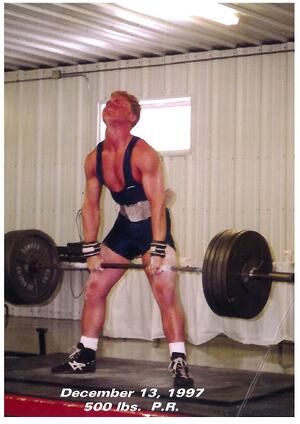 If you are just starting out, you can see big improvements quickly, spurring you on to get even better and stronger. Conversely, from defeat comes progress. Not getting a lift in a meet, or dropping out on that last set in the weight room, can be just as powerful as, if not more powerful than, the successes you have. You realize you have to work harder, be more disciplined, and improve that absolute strength.
Strength was stressed early and often in my early years. That has led to an ever-improving fitness level throughout my life, and it can do the same for you. Witnessing huge lifts, like the one in the photo to the right of my brother Andy, fired me up to be better and stronger, and has paid huge dividends in my athletic and fitness life. I look back on those early days in the weight room training with my brothers—the smells, loud music, and the emotions that packed each training session—and I know that because of it, I have been able to succeed not only in the physical realm, but in the mental realm as well.
Tony Maloney is the NIFS Fitness Center Manager and leads Group Training on Sunday through Thursday.