Tired of running, stair climbing, and cycling? If you are looking for a cardio workout that promises plenty of calorie burning, upper- and lower-body conditioning, all while being low impact, look no further than getting in some indoor rowing exercise.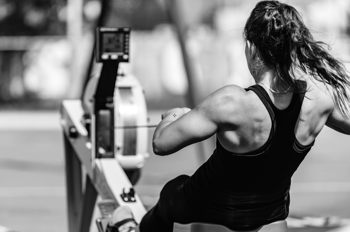 This exercise is not necessarily new (its origins date back nearly 2,000 years to ancient Greece) and not exclusive to outdoor rowing enthusiasts. For the average individual, rowing provides an excellent warm-up source, while the seasoned CrossFitter may use the rower as a cardio component in an elaborate superset. Regardless of your fitness level, the erg rowing machine is designed to give a low-impact, smooth exercise movement that provides training for outdoor rowers as well as an uncomplicated total-body exercise for the average Joe or Jane.
Steps for Learning Indoor Rowing
Indoor rowing technique can easily be taught in four convenient steps:
The Catch: The starting point; legs are bent at the knees, arms are straight, and the back is flat.
The Drive: The legs are extending and the handle is pulled toward the chest.
The Finish: Legs are extended and the handle is at the chest.
The Recovery: The sliding motion in which the body moves back to "the catch" position and performs another rep.
Like most exercise patterns, rowing requires practice and sometimes coaching to fully and safely get the most out of the movement.
For more detail, check out these instructional videos from the manufacturer of our rowing machines, Concept2.
NIFS staff is here to help and encourage you all the way! Please contact a NIFS Health Fitness Specialist with help on improving your rowing technique or incorporating the rowing machine into your current exercise program.
To get started or develope a new workout routine, contact us for a free fitness assessment!
Evolve and rejoice,
This blog was written by Thomas Livengood, Health Fitness Specialist. To find out more about the NIFS bloggers click here.