NAME: Judi Border, 14-Minute-Mile Group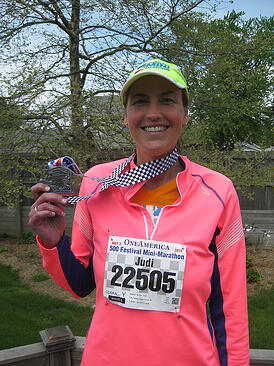 SHARE YOUR "STORY" OR A BIT ABOUT YOURSELF IN A FEW SENTENCES:
Born and raised in Cincinnati, moved here in 1992 for work. Since then I've been happily married for 20 years this July. We have a beautiful 17-year-old daughter and two cats. I work at WFYI as the Television Art Director and Motion Artist. About two years ago I realized I needed to make some life changes due to lack of personal challenges, weight gain, and the loss of two young friends to cancer. I started going to my local community center three days a week using a treadmill for 30 minutes. At the same time I started following a blog called the Happy Herbivore and became vegetarian. After a year I had lost weight, felt much better about myself, and added a yoga class.
Every year for as long as I can remember, a co-worker friend of mine registers for the Mini and always asks if everyone has signed up, too. This got me thinking, secretly I've always wanted to walk the Mini, just experience it, but I always had some excuse not to! This year I couldn't seem to find a reason not to, so in January I took a deep breath and signed up.
NIFS PROGRAMS YOU PARTICIPATED IN:
NIFS Mini Marathon Training Program
WHY DID YOU JOIN THIS PROGRAM?
I've never been much of an athlete, but I've always enjoyed walking. Luckily I work with several friends who have experienced the Mini and it was their advice that I should check out the NIFS Training Program. I knew I would need to join something because I had no idea how to prepare for the Mini. My greatest fear was being picked up by the bus and not completing the marathon. I couldn't find anyone who would walk with me; all my friends and co-workers were runners. NIFS has been a great supporter of WFYI over the years and I knew of them from that. It seemed like an obvious choice.
SOMETHING YOU HAVE ENJOYED:
I have really enjoyed this whole experience, which I credited to NIFS. It is a great feeling being surrounded by a group of enthusiastic people with a common goal. The group training is new to me and I have really enjoyed it. I found myself looking forward to Wednesdays.
SOMETHING YOU HAVE LEARNED OR SOMETHING THAT SURPRISED YOU:
I guess I surprised me. I've never been much for exercising, but I find that I really enjoy it. I like the fitness schedule NIFS has put me on for the Mini Training Program and hope to continue it. I believe I am in the best shape I've ever been in; it is very renewing.
FAVORITE RUNNING ROUTE FROM ONE OF THE RUNS?
The route to Fountain Square. You spend time in Downtown, drive through it, but how often do you actually walk through it? It was a nice tour.
WHAT ACCOMPLISHMENTS HAVE YOU ACHIEVED DURING YOUR TRAINING PROGRAM FOR THE MINI?
Every Wednesday night was an accomplishment for me because almost every Wednesday I was pushed to walk farther than I had ever walked at a 14-minute-mile pace. Then ultimately I completed the Mini Marathon, something I have wanted to accomplish for almost 15 years.
TIPS YOU HAVE LEARNED ALONG THE WAY?
Where do I begin? I've learned about the importance of stretching, cross training, what to eat/drink before and after training, what are the best types of clothes to wear when exercising, what it feels like to wear proper-fitting gym shoes, how to drink water out of a cup while walking. My favorite thing to learn was the importance of letting your body rest. Who knew?
HOW DO YOU STAY MOTIVATED?
First, I would have to say NIFS and my Wednesday Night Group, they kept me motivated. Having an additional support group outside of NIFS helped a great deal, in my husband, Terry, and my co-worker friends. But I would also say that my daughter has been a big motivation for me as well. As a parent it is amazing what we expect our children to do, while we sit by and watch. My daughter recently received her Black Belt and it was during her final preparation for the test that she had to run three miles at a 7-minute-mile pace. That motivated me to step up my exercising. She still motivates me in her continued fitness goal to stay healthy and fit.
ANY OTHER THOUGHTS YOU WISH TO SHARE:
If you have ever wanted to participate in the Mini Marathon, this is the best way to prepare for it. NIFS brings all the right elements together, the Runners Forum helps you with shoes, the onsite physical therapist works with you and any muscle pains that might occur during the training, and the group leaders guide you and answer all your questions. It is a wonderful way to get moving during the winter and really has been a great experience for me. I loved it.
NIFS new Fall Marathon Training Program begins July 9th-October 25th. Get Registered Today! Early Bird pricing before May 31—Members: $65 Non-Members: $80
This blog was written by Tara Deal Rochford, NIFS Membership Manager and a group fitness instructor. Author of Treble in the Kitchen. Meet our other NIFS bloggers.