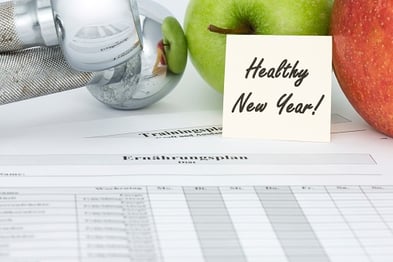 It seems nearly impossible that the holidays have crept upon us already! And not just that, but those dreaded New Year's resolutions that loom over our heads are just around the corner. But with the right plan in place, we can look at those resolutions as something exciting: a reset to get focused and to really accomplish something this year.
The key to not letting those goals slip by you and hit you on the backside is to have a plan in place that sets you up for success and not failure. A good, solid strategy that has been thought through early enough will get you where you want to be.
5 Simple Steps to Your New Training Plan
Here are 5 simple steps to help you set your New Year's resolution.
Figure out your goal. What is it that you really want to accomplish in your health and fitness this year? Take some time to really hash out what you truly want to do. Maybe it's finally committing to that first half marathon, setting a new PR in your deadlift, or simply being consistent and getting to the gym three times a week. Whatever it is, make sure your goal setting is attainable and realistic.
Make a plan. Once you have figured out what is realistic, it's time to make a plan. Figure out what tools you need in order to be successful and how you are going to do it. For example, do you need new running shoes, a fitness tracker like a

Fitbit

, or to hire a trainer? Once you have your plan in place, share it with someone. This will help you to

stay accountable

; whoever you share it with can check in on you to see how your progress is going.
Schedule it NOW! Like most things, if we don't get them on the schedule we might as well just forget about it. Make sure that you set aside time in your weekly schedule so that you are not digging for time each day. If it's in the schedule you are more apt to do it, so get it in there and don't make compromises!
Get an accountability partner. One of the easiest ways to stay on track is if someone else is checking in on you. Find a person who can be this for you. Maybe it's your spouse, best friend, or a coworker; or if you are lucky, you can find someone to meet you at the gym each day and don't let them down! Be sure to fill them in on your goals, your plan, and your schedule.
Reward yourself. And I am not talking about with brownies! Once you get into the habit and are staying on track, find something that you reward yourself with. Maybe it's that Fitbit that you wanted in the beginning but didn't get, those new running shoes you've been wanting, or signing up for a race in another state and making it a mini-vacation. Figure out how to reward yourself for doing what you planned!
Don't be afraid, and together let's make 2017's New Year's resolutions ones that we will actually achieve!
NIFS Can Help with Marathon Training
If one of those goals that you set is to complete your first 5K or half marathon, we would love for you to come and train with us in our Mini-Marathon and 5K Training Program! Let us be that accountability partner for you.
FIND OUT MORE ABOUT THE PROGRAM AND GET REGISTERED TODAY!
This blog was written by Amanda Bireline, Fitness Center Manager. To find out more about the NIFS bloggers, click here.