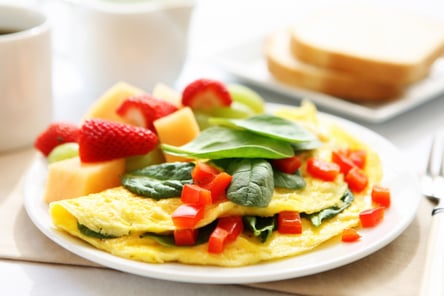 Start your day off right by nailing breakfast with a healthy, nutrient-rich meal. Breakfast helps kickstart your metabolism and burn more calories throughout the day. Eating breakfast tells your body there are plenty of calories to be had throughout the day. When you skip breakfast, the message is clear: conserve calories rather than burn them. Those who skip breakfast may eat fewer calories but still tend to have higher BMI.
Other studies have found more benefits to breakfast, including:
Consuming less fat.
Meeting fruit and veggie recommendations.
Higher daily calcium intake.
Higher daily fiber intake.
Better memory and improved attention span.
Skipping breakfast leads to:
Higher likelihood of being overweight.
Less likely to meet recommendations for fruit and veggie consumption.
More likely to consume unhealthy snacks.
So, a Pop-Tart a Day Will Mean Improved Health?
Not quite! Try to choose a breakfast that is unrefined/unprocessed and moderate in calories, high in fiber (5 grams or more), nutrient-dense, and has some protein (about 10–15 grams to help with keeping you full).
A sugary breakfast option like Pop-Tarts, donuts, or Cinnamon Toast Crunch lacks the fiber to keep you full throughout the morning and can pack a punch in terms of calories. Have you checked the serving size on the back of a cereal box? Unfortunately, people usually go way over that ¾ cup recommendation, and a bowl of cereal can sometimes max out at roughly 2,000 calories. A 16-oz. bowl holds about 6.5 times the serving size of Frosted Flakes. Add the milk and that can get you even closer to 2,800 calories! This can equate to relatively quick weight gain, especially if you find you are hungry again by 10am.
Some Good Breakfast Options
So what are some good choices for breakfast?
Oatmeal with fresh fruit and nuts
Whole-grain toast with avocado
Fruit smoothie with protein powder or nut butter
Egg scramble (or try tofu!) loaded with veggies
Whole-grain bagel with nut butter and slices of banana
Greek yogurt with fruit
Piece of fruit and handful of almonds
Apple slices with peanut butter
Overnight oats
High-fiber cereal with fruit and low-fat milk or plant milk (try Barbara's, Nature's Path, or Kashi)
KIND Bars, GoMacro bars, RXBars (high protein, low sugar)
Here are a few recipes for healthy breakfasts you can make quickly and take with you on a busy morning.
Breakfast Is on NIFS, June 25 and 27!
Check out our breakfast table in the Fitness Center hallway to sample a few of these breakfast ideas on June 25th and 27th from 11am to 1pm!
This blog was written by Lindsey Hehman, MA, RD, CD. To learn more about the NIFS bloggers, click here.