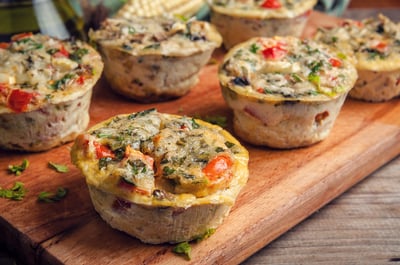 I don't know about you but I always struggle the first week of Daylight Saving Time. Studies have shown that the week following springing forward, car accidents increase by 6 percent, and the loss of sleep we experience with the time change can impact our health for weeks or even months. According to Northwestern Medicine, cardiovascular events also increase, with a 24 percent higher incidence of heart attacks the week after the shift to Daylight Saving Time. Keeping all this in mind, it's important to protect your health during this change to your circadian rhythm.
One of the main excuses people give for skipping breakfast is time. Now add in almost an hour of lost sleep, and that week following Daylight Saving could be a week of running late and missing breakfast, or the temptation to stop at the drive-through lane. Instead, here are some quick and easy breakfasts that can be useful for Daylight Saving or anytime throughout the year.
Egg Muffins
Ingredients:
12 eggs
½ tsp seasoned salt
2 to 3 TB diced onion
1 cup cooked diced or crumbled ham, bacon, or sausage
Pepper to taste
¼ tsp garlic powder
¼ cup diced red bell pepper
¼ cup sautéed and diced mushrooms
1 cup shredded sharp cheddar cheese
½ cup shredded baby spinach
Instructions:
Preheat oven to 350 degrees.
Spray a 12-cup muffin pan with nonstick cooking spray.
In a large mixing bowl, beat eggs. Add remaining ingredients and mix together.
Scoop ⅓ cup of mixture into each muffin cup. Bake 20–25 minutes or until the center of the muffin is completely cooked.
Baked Apple Cinnamon Steel-Cut Oats
Ingredients:
1 Tbsp butter
2 cups steel-cut oats
4 cups boiling water
2 tsp cinnamon
3 apples, peeled and diced
¼ cup brown sugar
1 tsp salt
2½ cups milk
Brown sugar, maple syrup, fruit, nuts (optional toppings)
Instructions:
Preheat oven to 375 degrees and grease a 9 x 13-inch pan.
Melt butter in skillet and add oats. Stir until lightly toasted.
Put oats in a large mixing bowl and pour boiling water over them. Add apples, cinnamon, brown sugar, and salt and stir until combined. Add milk and stir.
Pour into prepared dish and bake 50–60 minutes or until browned and set.
Stir oatmeal before serving and then add toppings as desired.
Peanut Butter and Banana Smoothie
Ingredients:
2 overripe, frozen large bananas
4–6 TB peanut butter or Pb2 (powdered peanut butter)
1 cup vanilla Greek yogurt
1 cup milk
optional ⅓ cup quick oats or rolled oats
Instructions:
Blend the oats until a fine powder forms, then add all remaining ingredients and blend until smooth.
Drink immediately, or store in a covered container in the refrigerator if you make the smoothie the night before.
Makes 2 servings.
This blog was written by Angie Mitchell, Registered Dietitian. To find out more about the NIFS bloggers, click here.