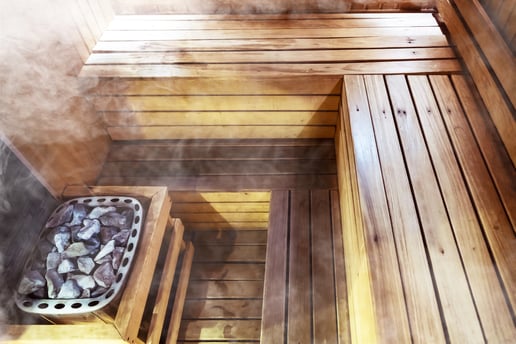 In my last blog post, I wrote a little bit about the benefits of taking ice baths and cold plunges. Very similar in benefits, but on the opposite end of the spectrum, is the scorching room that is a sauna. And like the ice baths, I think there is a case to be made for incorporating saunas into your everyday routine.
What Are Saunas?
To start off, let's talk a little bit about what exactly saunas are. Saunas are simply heated and enclosed wood-lined rooms that offer many different therapeutic benefits. Mainly they can be quite relaxing in the heat and help with sore and aching muscles as well as releasing perspiration as a way to cleanse the body of impurities.
The history and use of saunas as a therapeutic modality can be traced back to Finland. Starting in the 12th century, saunas began to appear as a log building in which rocks were heated with a fire, and the smoke was released through a small opening in the building. After the smoke cleared, one would enter the sauna and it would remain hot for about 3–4 hours. These saunas were revered by the Finnish people, and are still a big part of their culture to this day.
The Benefits of Saunas
Since saunas have been around for so long, their benefits have been studied time and time again. They have been found to relieve stress thanks in part to the release of endorphins that occurs in the heat. The heat can also help with blood flow and muscle relaxation as the blood vessels expand in the heat. Anecdotally, many have reported that saunas are instrumental in their daily routines and mental health: a place of solitude and a place to truly, deeply relax.
The Risks of Saunas
You should, however, consider the risks of sauna use. Mainly when you're in the heat, there is a risk for blood pressure to drop. Saunas also carry a risk of dehydration due to the sweating they cause. Due to the intense heat that is present inside a sauna, limit sauna use to 10–15 minutes and drink plenty of fluids before and after.
In conclusion, there are many benefits to the use of saunas and getting in the high heat. There are many different techniques you can use and there is no right way to use a sauna—just do what you feel most comfortable with and are able to tolerate. It's a great tool to utilize and get your sweat on!
This blog was written by Ricky Rocha, Health Fitness Specialist. To learn more about the NIFS bloggers, click here.