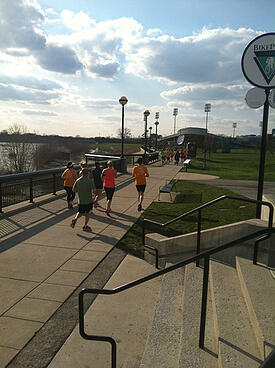 If you are a solo runner or walker, it is likely because you enjoy having that outlet in your day to just be with your thoughts, relieve stress and clear your head. This is a great way to accomplish all of these things, but if you are looking to make some greater strides in your race efforts this year, you may want to consider adding in a few training sessions each week with other people. This will allow you to step out of your comfort zone and push yourself harder than you would when you are training on your own. Along with this, there are many additional benefits that can be accomplished when training with a group. So why should you consider training with others?
1. Accountability
Knowing that you have other people waiting on you and that you have committed to a group is a big reason that training with others can help you accomplish your goal. Training in the long and cold winter months can be challenging, but knowing that others are layering up too can help you make the decision to join in and get through those training sessions together.
Also, group members can keep you on pace to make sure you get that time you have been training for. Cindra Kamphoff, PhD, a sports psychology consultant, said, "When you run with others, you tend to give more effort. You get caught up in the pace, and you might not recognize how fast you're going."
2. Camaraderie
Long-distance walking or running can be tough and lonely. It can be physically and mentally taxing and it is easy to fall into an easier effort level. However, if you are surrounding yourself with individuals going through the same aches and pains, that can help get you through the "lows" and celebrate the "highs." It can make training a lot more enjoyable. Training in a group can pass the time more quickly for those longer outings and can make training more fun when you aren't doing it alone.
3. Motivation=Results!

For every personal goal that you have set, there is a walker or runner out there who has achieved it, whether it is qualifying for a marathon, finishing a half marathon with a personal record, or jogging the whole race without stopping. Each person has their own goal, but learning from others that have like-minded goals or have accomplished these tasks can help make you a better competitor.
"You learn more about how other people train and what they're doing, and it can inspire you to do something different," Kamphoff says. "It can open up your mind to trying new distances, races, or types of workouts." Asking questions about routes, routines and injuries can help you gain a wealth of knowledge that will help you succeed in attaining those goals!
There are advantages to training both alone and in a group, so it's smart to do both. However, if you want more accountability, camaraderie and motivation that helps get you the results you want, consider training in a group!
This blog was written by Angie Sheetz, NIFS Registered Dietitian and co-coordinator of the Mini Marathon & 5K Training Program. Read more about the NIFS bloggers.