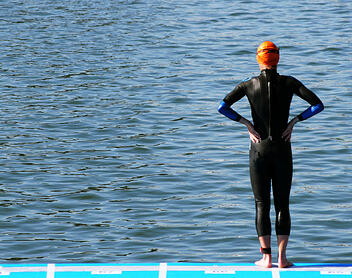 For many triathlon participants, the swim is the most difficult discipline. Open-water swimming is different than following the black line on the bottom of a pool. Here are some tips to help the swim portion of the race go more smoothly.
Get Good Equipment
Get a good suit and goggles (there are specific ones for different face shapes). Spend some extra money and get advice from a good swim shop.
Get Help with Form, Drills, and Workouts
You need to make sure your stroke is efficient and repeatable, so that you will be confident in the race. Here are a few drills to get you started. Most of your swim workouts will include a drill set. Pick from the variety of drills here:
Catch-up Freestyle: Promotes better rotation and arm-stroke mechanics.
Start by kicking facedown with both arms extended in front of you. After 3-4 seconds, perform a complete pull with one arm and rotate fully to that side. Immediately rotate back on your belly and catch up to the forward arm with the arm that just pulled. Kick for 3-4 seconds and then pull with the other arm and rotate.
Count Stroke: Helps to improve overall stroke efficiency.
Count the number of strokes you take while swimming one complete length of the pool with normal freestyle. Try to lower the number of strokes taken in each length. You will achieve this by taking longer, more powerful pulls, rotating more, and allowing yourself to glide a little bit. Feel free to exaggerate these elements in order to decrease the stroke count.
Fingertip Drag: Promotes complete arm extension and proper hand position in the release.
Swim a normal freestyle stroke, except consciously drag your fingertips across the surface of the water during the recovery phase.
Fist: Helps with shoulder rotation and increases pull.
Swim with your fists clenched. This drill helps with rotation and working on the elbow bend in the catch portion of the arm cycle in order to create a powerful "paddle" for the pull.
Bilateral Breathing: Practice breathing on both sides.
Most triathletes are only able to breathe to one side while swimming, but breathing on the non-dominant side is very important during a triathlon (and during training, too!). Swim your normal freestyle stroke while breathing on every third stroke (right-left-right) instead of every second or fourth (right or left only). Stick with it and you'll steadily improve.
Sighting: Simulates race-day skills.
Sighting is an important skill when you swim in open water without lane lines to guide you. It consists of modifying your swim stroke to look ahead and spot a landmark to aim toward. In a normal freestyle stroke, you turn your head directly to one side to inhale and then turn your head back to a neutral position with your eyes looking toward the bottom. When you sight, you instead turn your head to look forward to spot a landmark, inhale, then put your face back in the water. When practicing, swim normally and sight every 4 to 6 strokes.
Practice in Open Water

This is important! The pool is great for getting in mileage and form work, but the dark water with no lane lines can add stress to race day. Try to find a open swim area to practice sighting and getting used to swimming in a straight line.
Do Plenty of Mileage
If your race is 500 meters, make sure you can do almost twice the distance. In the beginning that may seem like a lot, but you will be much more comfortable on race day if you are always doing extra work beforehand.
Train with Others in Your Lane (or in Your Way)
This is important if you cannot get to open water. During a race there are often fellow racers swimming by, over, or near you. Have someone swim next to you and occasionally hit you, splash you, or harass you. This will help you focus on your stroke, focus on breathing to the opposite side, and get you ready for all challenges on race day.
This blog was written by Kris Simpson BS, ACSM-PT, HFS, personal trainer at NIFS. To read more about Kris and NIFS bloggers click here.