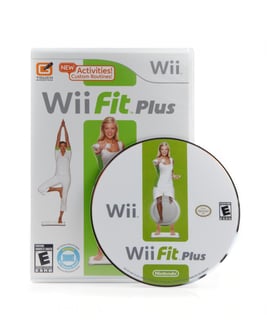 Several years ago the Nintendo Company introduced its newest entry into the video game market with the Wii and hit game Wii Fit. The idea seemed bold at the time; graphics were all the rage, but the Wii brought a more simplistic design to the table. While focusing on easy-to-use controls and replay ability, the crossover to the fitness world was quite easy, yet revolutionary. Let's face it, video games had become synonymous with, to put it nicely, deconditioned individuals. This new technology, however, allowed the gamers to interact with the games in new ways.

Video Fitness for All Ages
What I felt to be most interesting was that this video game phenomenon wasn't just for 12-year-olds. We started noticing our parents, grandparents, aunts, and uncles up and out of their recliners and actively working on balance, strength, and conditioning, and even hand-eye coordination as part of senior fitness. What made it work, though, was the fact that it was both simple to operate and at the same time addictively fun.
10 Years of Wii
Fast-forward almost ten years and we can still see this influence among all the major video game consoles on the market. With the constant upgrading of technology, we must ask questions such as, "How far are they going to take this?" and "How can we make the most of these technological tools to help motivate people to stay fit?"
Although the future is uncertain, we can definitely see that systems such as the Wii are being used for good, purposeful exercise. The in-home system may be your end-of-the-day stress relief, but more and more laboratory studies are using Wii technology to train athletes and assess abilities. Physical therapists are now using the Wii to help individuals with issues ranging from developing balance and stability for the elderly clients to helping an adolescent with spastic diplegic cerebral palsy to develop movement patterns.
Are Video Games Real Exercise?
Will video game fitness ever gain enough momentum to be accepted as genuine exercise and a good workout? It would seem as though it would be swept out by most skeptical fitness gurus, but we must be cautious when doing so. If the mission is to bring fitness to the masses, in a realistic scenario, skipping this vast population of typically sedentary individuals would be a huge disservice. The best solution, I feel, is to embrace the tools that we have and translate fitness in a convenient way. The development of smarter technology will only enhance experiences, in turn changing lives. This blog makes it easy to see some of the options that are out there.
In closing, video game fitness is currently alive and well. Making fitness fun isn't always easy, but it definitely does not have to be dreaded. Don't get me wrong, your local health and fitness professionals are still going to give you the best, safest experiences with bountiful knowledge, but now we can develop beyond the two or three hours per week we work out at the gym, in the comforts or our own home and among family and friends. NIFS offers video game fitness opportunities in the nursery area for youth. Contact the service desk for more information regarding hours of operation.
Evolve and Rejoice.
This blog was written by Thomas Livengood, Health Fitness Instructor at NIFS. To find out more about the NIFS bloggers click here.