Salutations, NIFS friends. Whether you have been working out for 30 years or are brand new to fitness, one mystery that normally goes unsolved is "Where did they come up with the name for that exercise?" Sometimes it's pretty self-explanatory (such as biceps curl), but other times it can be quite misleading (for example, Burpee). Then when you have met several different trainers, maybe they call the same thing something different (such as torso rotations versus Russian twists). It can be downright confusing.

Here we will explore a few of my favorite mystery exercises and dig a little deeper into their backstories.
Jumping Jacks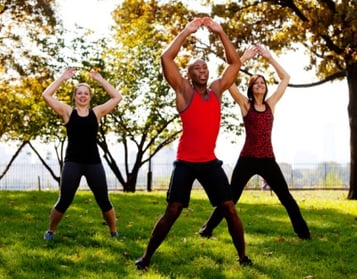 So, who invented the jumping jack, and where did it originate? I should preface that by saying that it is really hard to invent exercises, at least classic, iconic ones like "the pushup," "the sit-up," and "the jumping jack." That being said, we really want to credit the jumping jack to the great Jack LaLanne. Although LaLanne made the exercise popular, it was already in use by the U.S. military and gets its name from a traditional toy in which a string is pulled and the arms and legs spread into a star or jumping-jack position.
Burpees
Another exercise that carries some notoriety for name confusion is the Burpee. To a lot of people, the Burpee sounds like a made-up name for this brutal exercise. Prior to doing Burpees for the first time, you might snicker at the idea of doing some crazy Dr. Seuss-like movement, but then you do them and your opinion changes quickly.
So, where do Burpees come from? Apparently, in the 1930s, Dr. Royal H. Burpee (sounds made up, right?) at Columbia University invented the Burpee as part of a PhD thesis. His Burpee test was meant to simplify fitness assessments and was used by the U.S. military. Nowadays, the Burpee is mostly associated with cruel and unusual personal trainers.
Turkish Getups
The Turkish Getup is in a category all by itself when it comes to mysteries. To some, it closely resembles a strongman wearing a leopardskin Onesie and handlebar mustache performing for a traveling-circus sideshow.
As deep as that sounds, finding the exact origins of the Turkish Getup was even more challenging. It is thought to have originated in Turkey hundreds of years ago and to have been passed down from generation to generation to modern times, where it is primarily done with a kettlebell in either a kettlebell class or a during a CrossFit session. One thing that hasn't changed, though, is the Turkish Getup's reputation as one of the most intricate movements in all of fitness.
***
What are some names that have perplexed you or even made you laugh out loud? Share in the comments below for an open discussion and maybe you can "stump the trainer."
Whether you call it a squat press or a thruster, one thing we always want to make sure of is safety. Your NIFS health fitness professional will ensure you're getting a great, safe workout regardless of what you call it. Schedule a free assessment today!

This blog was written by Thomas Livengood, Health Fitness Specialist at NIFS. To find out more about the NIFS bloggers, click here.