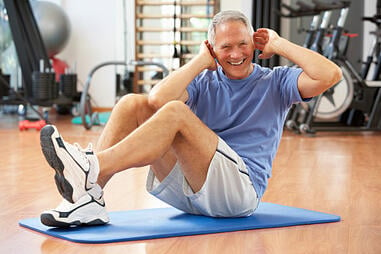 Everyone is demanding you give 100 percent effort on this exercise program or that workout plan. We say (or you hear), "You need to give 110 percent to achieve results. Or even better, "You're nothing if you don't give me your all."
Your entire life, the pros keep hammering the same things. But what if you just can't give that 100+ percent? My guess is it will kill your motivation, and you will not give any percent. This article is for all of you who are so far from being a "workout junkie" that you would not know a dumbbell from a kettlebell. (A kettle-what? Yeah, just as I thought.) So I ask you: If you give 95 percent effort, isn't that better than 100 percent of nothing?
Yes, 95 Percent Is a Lot Better Than Nothing
Think about this:
If you put only 95 percent of a tank of gas in your car, it will still run, right?
In school, if your kid brings home a paper with a 95 percent on it, it will still be an "A," won't it?
If you eat only 95 percent of the food you order in a restaurant, you will be full, won't you? (And you will actually save yourself many unnecessary calories.)
If you're still sitting on the couch waiting for the workout wagon to come and swoop you up (it won't, by the way, but it is still stopped outside waiting for you), give my 95-percent-effort routine a try.


The Other 5 Percent

What about the other 5 percent, you ask? Well, I just want you to smile. Yes, you read correctly. Just smile. Be thankful for what your body just gave you. Your effort will be "A" work, and that smile will do wonders for your stress levels.

Smiles are generally divided into two categories:
Standard smiles, which use the muscles surrounding the mouth.
Genuine or Duchenne smiles, which engage the muscles surrounding both the mouth and eyes.
Previous research shows that positive emotions can help during times of stress and that smiling can affect emotion. Here's what you will do: Move your arms and legs, hold your core (plank), and get your heart rate up. Give 95 percent of your effort; and when that is done, give yourself 5 percent of a big ole smile!
See my previous blog post from our Fit and Forty Plus (Fabulous) series and get yourself moving. You will soon be ready for the next step: THE WORKOUT JUNKIE (or not).
Reminder, before starting any exercise program, make sure you get a checkup from your doctor. If you do any moves that cause pain, please stop and get medical advice.
Good luck, and make your 95 percent your best, and your 5 percent smile so big we can't wipe it off!
This blog was written by Kris Simpson BS, ACSM-PT, HFS, personal trainer at NIFS. To read more about Kris and NIFS bloggers click here.