Has completing a marathon always been on your bucket list? Are you looking for a new challenge and to step up your commitment to fitness this year? You may be ready to try your first marathon! Here are 4 questions to ask yourself to determine whether you are ready:
1. Have You Run a Few Half-Marathons?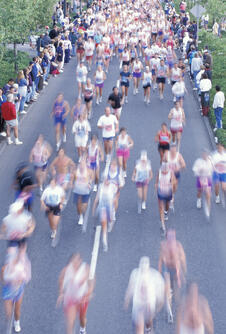 Yes: Great! You are already halfway there! You mentally know what it takes to complete long-distance runs and a training program, and you have experienced that race atmosphere and everything that goes with it. Along with this, you know the ins and outs of how to fuel, hydrate, and recover from the high-mileage training properly.
No: That is okay! Starting with a half-marathon is a great first step to getting to that first marathon. This will get your body and mind up to speed with more ease than jumping into a full marathon
2. Do You Have the Time to Dedicate to Training?
Yes…I think: Training for a marathon requires more time and energy than training for a half-marathon. To prepare to have the most successful race that you can come race day, you will need to complete some long training runs that go up to 20 or 22 miles! Depending on the speed that you are going, this can take you between 2 and 5.5 hours. Be sure that you have a day during the week that you will be able to dedicate toward this kind of training. Along with this, you will need to complete two or three additional runs or walks throughout the week, as well as complete some cross-training sessions.
No: Training for a marathon may not be in the cards for you right now. If you have a lot going on as it is and hardly find time to squeeze in a short 3- or 4-mile run or walk, completing a marathon successfully should wait until your schedule calms down.
3. Are You Motivated to Complete 26.2 Miles?
Yes: Good! This will carry you through those long runs mentally. Having the desire to get out there and train to complete the race is key to having a successful training program.
Not really: You should keep that in mind before starting to train and signing up for your first race. If you are not completely sure that you are motivated to do the race, hold off on signing up. I suggest completing a few weeks of a marathon training program to see if your motivation grows as the distances get longer. If you find yourself becoming less motivated right away, reconsider your goal and maybe stick with a half-marathon again.
4. Are You Running/Walking Consistently and with Few Injury Issues?
Yes: That is a huge plus! If you are already consistently going out for runs or walks and are not having any pains or injuries, it is safe to start ramping up your mileage slowly to prepare for the marathon.
No: Get consistent and healthy first! If you are not consistently walking or running, that is the first thing that you should do. Consider following a scaled-back training plan and start by making sure to complete 3 or 4 days of walking/running for at least a month. If this seems to be going well and you are not running into any injuries, you can start to reconsider.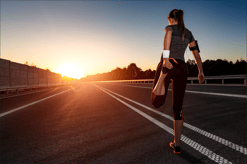 If you said yes to all of these questions, it is pretty safe to say you are ready to get started on a marathon training program! If you answered a few with "no," no worries. A marathon is still not too far out of reach. Just address the obstacles that you have and work toward resolving those!
This blog was written by Stephanie Kaiser, Fitness Center Manager and Health Fitness Specialist. To find out more about the NIFS bloggers click here.