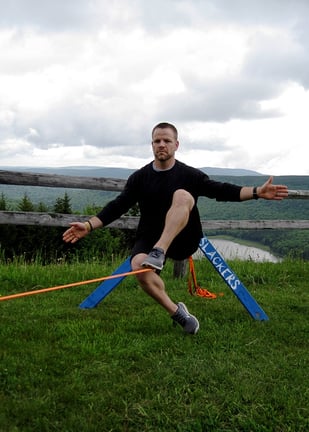 I recently attended an event that was pretty far outside my usual activity base. I consider myself a lifetime mover and a lifetime learner, but I have to admit this event had me a bit concerned about my success rate, comfort level, and quite honestly my enjoyment. After all, I was supposed to be on vacation. The event I am referring to is a rather large one called Wanderlust, a three-day celebration of the practice of yoga and its branches.
Now you can see a guy like me was pretty concerned about my abilities stepping into this weekend of yoga, meditation, slacklining, and the like. I have little to no experience in many of the mindfulness practices on what I refer to as "that side of fitness," nor was I confident in my abilities to slow down long enough to find some kind of connections while performing in the sessions. I've been known to be a bit on the intense side, especially when it comes to training, so I was worried about my presence at this kind of event. A bull in a china shop came to mind.
After the first few sessions of meditation, yoga, and some slackline training, I was quickly finding out the great benefits that come from mindful movement. I was able to slow down and connect with myself and my surroundings. I began to feel every part of the movement and how it affected the entire body. Even the very difficult poses of yoga were providing positive feedback that I am sure so many seek during their personal practice. Don't get me wrong, there were some frustrations and many failures, but it became very enjoyable to experience those hurdles and challenges. Here are few more lessons I grabbed from my time at Wanderlust.
1. Yoga Is Hard, and You Are Going to Fall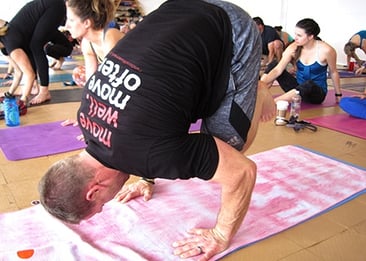 Prior to this trip to Snowshoe Mountain, I participated in two group fitness yoga classes here at NIFS, and I struggled. After a few more sessions at Wanderlust, I was still pretty bad, but I was better. I learned from my previous failures and falls (usually on my head from a handstand or crow) and got a little better each time. Small improvements made consistently will always lead to success in anything that you do.
2. Wandering Does Not Mean You're Lost
Attempting new things and stepping out of the norm does not mean you are lost or unhappy with your current training methods and ideas; it is a positive thing to try new activities that provide a different kind of stimulus. Challenging your current limits once in a while is a good thing; you tend to find out some things about yourself you never knew, opening up new interests and opportunities for growth. It's exciting to find strength in activities you never knew you had and jump out of that self-made comfort zone. Try new things and witness the benefits both positive and negative that will always lead to growth.
3. Balance Is Key
I think finding balance in your fitness world is as important as having one in the first place. Remove the blinders once in a while and work on aspects of your fitness that create balance in your body, like mobility, strength, endurance, and power. Repeating the same thing over and over again, constantly performing high-intensity workouts or only performing heavy strength workouts, is a good way to paint yourself into a corner. Find balance during your week of workouts to continue to get the best of all disciplines that will ultimately create the best version of you.
4. Just Let Go
Probably one of the major lessons for me during this retreat was finding ways to just let go and be where you are at that moment and absorb what that experience has to offer. Being in that moment and not stressing about what has happened and what is yet to come allowed me to get the most out of not only the activity I was participating in, but everything that surrounded it—like the beautiful day and scenery, for example. And by the way, here are a few things you should learn to let go:
Toxic people in your life

Being a victim

Trying to please and/or impress everybody

Worries about the future or past mistakes
5. There Is Always a Way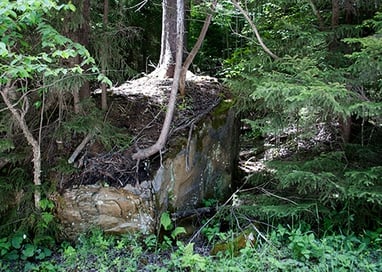 I am a huge believer that if there is a will, there is a way, and to always find ways to get things done. Just like the tree in the picture growing on top of a rock, it found a way to get tall and strong even though it is out of its usual environment of growing from the ground. IT FOUND A WAY. You can always find a way to eat right, exercise, get enough sleep, decrease stress; you just have to reach and work for it. There is a way; find it. This tree did, and so can you.
Bonus Takeaways:
Find your "True North," that reason you are here and what makes you happiest.

Have faith in yourself and be brave; don't be afraid to make a mistake.

Find getaways that are out of the norm for you and redefine your boundaries.

Surround yourself with like-minded people who want the same things you want.
This blog was written by Tony Maloney, ACSM Certified Exercise Physiologist and Fitness Center Manager. To find out more about the NIFS bloggers, click here.