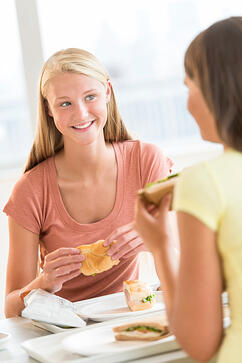 Nothing can replace my four years at Butler University. I made sure to enjoy myself and my friends, try new things, and study hard, so I know what a juggling act college can be. With so many organizations to be part of, parties to attend, events to host, and exams to ace, there are a lot of things on your college plate and it's easy to put your health and wellness on the back burner.
Instead of just eating a couple of pieces of boring lettuce from the salad bar during meal time and missing out on a social life, I used a few simple tricks to keep the freshman 15 weight gain from creeping up on me.
1. Focus on making the best choice in each moment, not on being perfect.
It's easy to get overwhelmed when thinking about living a healthy life, but being healthy isn't about exercising all the time and eating only nutritious foods. Being healthy is about being balanced and being happy with your life. There will be times when all of your friends want to go out for ice cream, skip a workout, or do something that may not be in your "healthy-living plan," and that's okay. One of the biggest lessons I learned in college was to go with the flow, make the healthiest choice for my body and mind in that moment, and enjoy every second of every day.
2. Stock the mini fridge.
Having a mini fridge was one of the smartest things I could have done during my college career. I made sure to stock it with fresh vegetables and hummus for snacking, fruit for breakfast, and almond milk to put in my coffee. Some easy dorm-room snack essentials to have on hand (even without the mini fridge):
Chopped carrots, celery, broccoli, and cauliflower (I would chop this up at my parents' house and bring it to the dorm with me!)
Hummus
Nuts and seeds (cashews, almonds, and sunflower seeds are my favorite!)
Dried fruit
Natural peanut butter or almond butter
Portioned-out baggies of oats
3. Get involved in your campus fitness center with programs like First Year Fit.
The fitness center was where I spent my "me" time while I was in college. I loved experimenting with new classes, meeting people, and getting high on endorphins! Many campus fitness centers (NIFS included!) are hosting incentive programs to encourage new students to become gym members, try new classes, and get fitness into their weekly routine. The staff wants to help you get into your healthy living groove, so don't hesitate to ask questions—that's what they are there for.
4. Take the fruit.
Most campus dining halls have a bin of fresh produce that usually includes apples, bananas, and oranges. While I was in college, the dining hall staff really didn't encourage removing foods from the dining hall, but grabbing a piece of fruit to go was okay. I always made sure to take one or two pieces to have on hand, in my bag, and ready to go as soon as hunger struck so that I had a healthy option to keep me focused and fueled through the afternoon. My tip is this: Always take a piece of fruit, even if you aren't hungry at that moment and don't want to eat it right then. Fruit can keep for up to two weeks without being refrigerated, and having that fruit nearby will give you an instant (and free!) snack to tide you over until mealtime.
5. Inspiration on YouTube
It's not always easy to get to the gym, and when there is time to get there sometimes it's hard to decide what equipment to use and what workout you want to do. This is where YouTube comes into play. I love following fitness professionals, healthy living bloggers, and my fitness center on YouTube for easy-to-follow workouts and motivation. Some of my favorites are NIFSindy, Jennifer DeCurtins of Peanut Butter Runner, and Livestrong.
NIFS 1st Year Fit program was designed to help keep students on a healthy track as you start a new chapter in your college career. This is a completely free program for IUPUI students who are NIFS members.

This blog was written by Tara Deal Rochford, contributing writer, group fitness instructor, and author of healthy living blog Treble in the Kitchen. Meet our other NIFS bloggers.