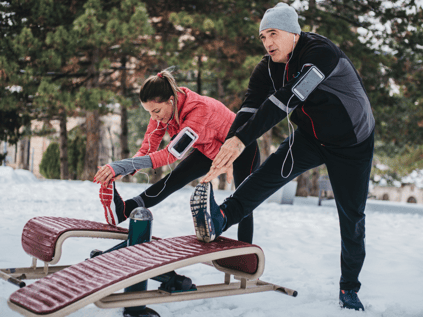 The temperatures are still frigid, and there are days when it seems as if the sun doesn't shine. This is the time of year when we can start to feel down and less motivated, and maybe start to develop a case of the winter blues. It's easy for these negative thoughts to start creeping into our heads, but it is just as easy to kick these thoughts to the curb with these five simple steps.
1. Stay Active
When the snow is blowing outside, the temperatures are below freezing, and the sun is not yet shining, it is easy to make excuses as to why you shouldn't go to the gym. The thing is, you don't have to go to the gym to be and stay active. You can complete a NIFS workout at home, throw in a fitness DVD, or embrace the cold weather and participate in a cold-weather sport such as skiing or snowboarding. Being active helps to relieve stress, elevate your mood, and increase your energy and metabolism throughout the day. All you have to do is get moving!
2. Eat a Healthy Diet
The foods that we put into our body have a huge effect on our mood and energy levels. Refined and processed foods are not full of the vitamins, minerals, and nutrients that our bodies crave. Fruits, vegetables, whole grains, and lean proteins will give your body nutrients to give you the energy that you want and need to move through the day with ease.
3. Plan Something for the Future
Now this won't provide you with instant satisfaction, but it will give you something to look forward to when the warmer months come. You can plan a trip, sign up for a race, or just plan a weekend with your friends. Having that "thing" in the near future to look forward to will be like the carrot dangling in front of you to keep you pushing through these dreary winter months and looking forward to something brighter.
4. Treat Yourself Now!
Planning something for the future is great to keep you going, but you should also reward yourself for your hard work, healthy eating habits, trying that new workout, acing the test, or whatever you have accomplished right now! Treat yourself to a manicure or pedicure, a new clothing item, time with your friends, a special event, or anything else that makes you happy. Winter can seem endless, but with little treats to look forward to, the dark and cold days will go by more quickly.
5. Soak Up the Sun
Even though the temperatures may be chilly, the sun still shines! Many people know that the sun is a great source of Vitamin D, but the sun also lifts your mood. The colder and shorter days during the winter months cause many people to spend more time indoors. A lack of sunlight can cause people to feel depressed or sad. Sunlight effects our mood by releasing neurotransmitters in the brain that effect mood (very similar to exercise!). Instead of cozying up in front of the TV, embrace the cold weather, bundle up, and spend some time outside. You can also soak up the sun simply by sitting near the window!
Using these five ideas, your winter will fly by and spring will be here before you know it!
Written by Tara Deal, NIFS Group Fitness Instructor and author of Tara Rochford Nutrition.