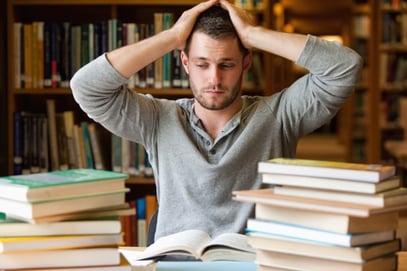 When it comes to settling back into school, adjusting to the crazy schedule can become one of the biggest tasks. From classes each day, to group project meetings, to homework due dates and the dreaded semester exams, how are we supposed to find the time to keep ourselves healthy and fit?
In the summer you may have had no classes or potentially just one, leaving you with a hefty amount of extra free time to spend how you like. Getting back into those fitness goals that you wanted to accomplish wasn't such a hard task. However, when school stress sets in, students find that that time gets cut short and they tend to give up on focusing on their own health.
Tips for Fitness in College
Here are a few tips to help you stay focused and driven to keep exercise in your daily schedule, without falling off the wagon, all while being successful in school:
Drink water throughout the day. We all know about the strategically placed dorm and community food/drink venues that are available at our fingertips when we are moving from class to class on campus. However, a lot of them tend to be full of extra sugar and unnatural ingredients. Simply remember to pack a bottle of water. There are many places across campus to refill it, and I would even challenge you to see how many times you can do that in one day! Drinking enough water will keep you hydrated and healthier. It will also assist in brain function to keep you focused during those long lectures and tedious late-night homework assignments you need to finish.
Keep a daily agenda. Whether it be just a few reminders on your phone or a hand-held planner, having something that tells you what you are doing throughout the day can only help keep you more organized. It can also help to keep you more accountable. If you have your workout scheduled and written down as a reminder, you are more prone to complete it. Find what works for you: a set time each day like after your last class, meeting a friend at the gym to work out together, or an alarm on your phone can be the secret to success.
Plan out your workouts. Knowing what you are going to be doing for your workouts is essential when it comes to saving time and being efficient in the gym. Take some time at the end of the week to plan out what you will be doing for the week to come. This not only saves you from walking around the gym wondering which exercise to do next, but it keeps you on task with something that you can build from and see more results. If you need help planning your workouts or some extra guidance, NIFS has qualified trainers who can sit down with you and help you plan out specific goals and personal training. They can also assess your movement through personal fitness testing and a functional movement screen, and then create a personal workout program that works for you. Click here to learn more about setting up your free fitness sessions with a NIFS trainer!
Incorporate HIIT into your busy days. High-Intensity Training (HIT) is a GREAT tool to use for those jam-packed school days where you don't have much time. Days like that can elevate your stress level, which can have an effect on your blood pressure and fat retention. Workouts in the form of HIT training are shorter, with bouts of high heart rate and little rest in-between. They get the job done in less time, and are a great pick-me-up to burn calories and relieve some stress during your busy day. Click here to check out our HIT schedule and to try a class for free!
Find an accountability partner. If you feel like you are one who tends to start on something and not always complete it, an accountability partner is an awesome thing to have to keep you on track. An accountability partner can be anyone in your life who can commit to help keep you responsible for staying on track with your goals. For example, your best friend, roommate, classmate, family member, and even a coworker are all great options! This needs to be a person you converse with or see on a regular basis, so they can make sure to ask you regularly whether you trained that day or stayed on whatever new eating plan you may have started. This person can even have similar goals as you and work out with you, so you both can cheer each other on. This strategy will help increase adherence and get you closer to success with your goals.
Stay Focused on Fitness
So, while there are plenty of things that can distract you from staying on track, you can use these simple tips to keep focused! If you simply adopt a few new habits like the ones above, you will be more likely to keep on top of your fitness goals.
This blog was written by Rebecca Newbrough, Lifestyle Program Coordinator and Health Fitness Instructor. To find out more about the NIFS bloggers, click here.