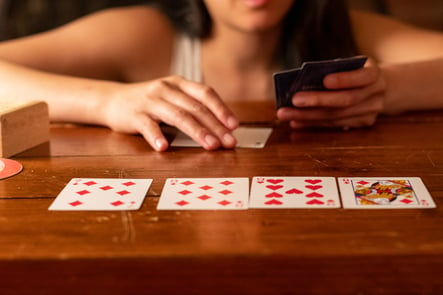 It goes without saying; we're living through some pretty odd times. With the onset of COVID-19, many of our lives have been flipped on their heads. For some, there has been less structure, and maybe a little more downtime, and that has the potential to make even the sanest of them all go a little stir-crazy.
Here are a few things that you can do today to help break the monotony (or break that Netflix binge) and add some flavor to your day.
Learn to play a new card or board game.
Remember that time your friends from Michigan asked if you wanted to play Euchre, and you responded with a shrug and said, "I've never played, can you teach me?" But they were too competitive to have the patience to do so? Is this oddly specific? Yes. But now is a perfect time to pick up a new game to play around the kitchen table. Whether its Euchre (I'm still working on it), Catan, or even perfecting your Poker face, take a break from professional development and instead work on learning a new game.
Play a round of Chopped: Home Pantry Edition.
For those of you who don't frequent the Food Network, Chopped is a show in which four chefs compete against each other. In each round there are four "basket ingredients." These basket ingredients must be used in some way, shape, or form, and typically end up being some off-the-wall, unexpected item that must then be used to create an appetizer, entrée, or dessert. After you've reorganized your pantry (because goodness knows there's time now), take that flavored olive oil, an overly ripe banana, a packet of oatmeal, and a can of tuna and see what you come up with! Okay, maybe use some more tasty items, but you get the idea. Now, grab that apron and get cooking!
Reorganize your living room furniture.
This has the built-in benefit of killing two birds with one stone. Not only do you try your hand at being Joanna Gaines (you know, from Fixer Upper), but you also engineer a little extra movement into your day. Sometimes just a quick rearrangement can make that space you've been spending a lot more time in feel brand new. Just make sure you don't take it a step too far and channel your inner Chip Gaines for a demo-day. (Jokes!)
Make a scrapbook of that awesome vacation from 3 years ago.
We all know you probably took a bajillion pictures when you were out West on that road trip, many of which didn't make the Instagram cut. So break out the scissors, cardboard, stickers from all the places you explored, and of course all the goofy photos you snapped, and get down to business!
Finally finish that book that's been sitting on your bedside table.
We've all seen those articles, right? Something along the lines of "How CEOs Read 247 Books a Week." Well now's a great chance to pick up that half-read book and finish the darn thing! Even if you're not a bonafide bookworm, maybe check out something like a history of your favorite sports team, a biography from a standup comedian you love, or the book version of one of your favorite movies or shows to see how they compare.
Call a loved one or a friend you want to reconnect with.
While we're adjusting to this new normal and practicing social distancing, that doesn't mean that social isolation has to be part of the equation. As humans, we are social creatures by nature. So, that quick phone call to check in on your mom or dad, your good friend from college, or that coworker you really miss can go a long way in lifting your spirits, as well as theirs.
If you're restless, get up and move!
As a blog writer for a fitness center, this one may seem like "duh, Lauren, we get it." And I know most of us have probably had our Facebook page, Instagram timeline, and Twitter feed bombarded with versions of at-home workouts. But I think there is a lot of truth behind the notion that movement is medicine. If you're restless, do a one-minute workout. If the weather's nice where you are, get outside for a breath of literal fresh air. If you have a makeshift garage gym, blast some "Eye of the Tiger" and duplicate a Rocky training montage. However you choose to move, chances are you'll come out in a better mood on the other side.
This blog was written by Lauren Zakrajsek, NIFS Health Fitness Instructor, Personal Trainer, and Internship Coordinator. To learn more about the NIFS bloggers, click here.