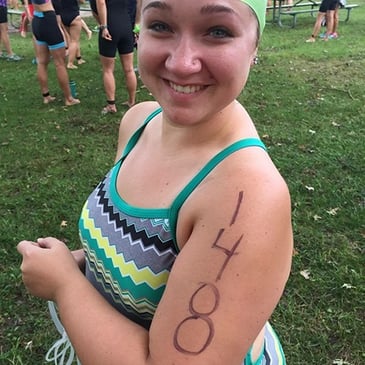 It's triathlon season and 2016 program participant Allison Anderson is coming back for another round. Many people come back to try something a second time, and for Allison there was no question whether she was going to tri again!
I took some time to talk with Allison about her experience with the NIFS Tri-Training Program and what inspired her to do it. Take a few moments to hear what she has to say.
What made you decide to
join NIFS Go Girl Tri-Training Program?
I saw the Go Girl training advertised on the NIFS Instagram. I immediately thought, "I can swim, I can ride a bike, and I can run/walk 3 miles. Let's do this!" The training was intense, but it prepared me for what was ahead. I was also interested because it was an all-female race. It seemed a little less intimidating than competing in a male/female triathlon.
What was your favorite part of the training?
Swimming! I was a swimmer in high school and was missing the workouts. The swimming aspect of the tri was the deciding factor for me. I was ready to take on the challenge again.
What did the group training program offer you that you wouldn't have been able to do on your own?
The training program offered a full training plan, the opportunity to find others that were around the same level, and information on appropriate nutrition and food choices.
Who would you recommend this training program for?
This training program would be great for any woman interested in participating in a triathlon. There are multiple levels of intensity, so it is appropriate for everyone. The NIFS staff is helpful with all levels, encouraging beginners and challenging veterans.
Do you have any recommendations for those in the training program?
Have fun and follow your training plan. Following the training plan to a t will help you be as successful as you can. Making a friend who works at the same pace is encouraging and gives you accountability to keep working out, even when the whole group isn't working together. It's also nice to see that someone is working toward the same goal as you are.
***
If you are a woman looking for a new challenge like a triathlon, or maybe you're a seasoned veteran in triathlons but are looking for a training group, the Women's Triathlon Training Program may be just what you are looking for!
Spaces are limited! Register now so that you don't miss out!
This blog was written by Amanda Bireline, Fitness Center Manager. To read more about the NIFS bloggers, click here.