As we age, it's almost inevitable that our bodies are going to age as well. Yes, there are plenty of ways to keep our bodies from feeling like they have aged, and to keep our bones protected, and nutrition and exercise lifestyles go hand in hand to assist that. However, there are certain aspects, such as genetics and health history, that still play a very important role in keeping us healthy.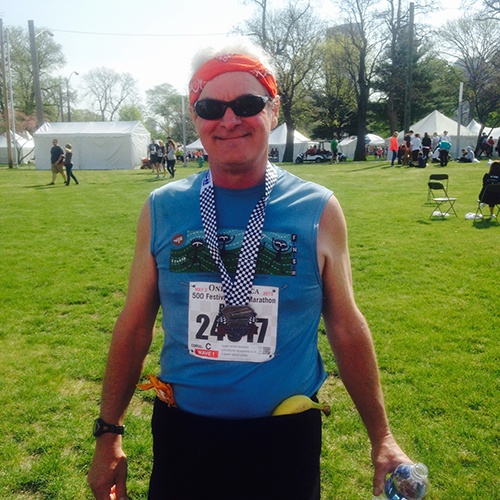 I sat down with Pete Binhack and his wife, Julie, both active and longtime NIFS members, and listened to them share Pete's story about making a decision to get a simple $50 heart scan to check his cardiovascular health—a decision that ended up saving his life.
First tell us a little bit about yourself and how long you have been living a healthy lifestyle.
"I am currently 58 years old, and have been running regularly for the last 18 years; I made a declaration to myself when I turned 40 that I would start running and have kept it up ever since. Since then I have completed about six full marathons so far, and as of this year I have completed 18 mini marathons. I found that running is what contributed to taking care of my work stress; I have a fairly physical job in the HVAC/refrigeration industry and that has encouraged me to maintain a healthy lifestyle."
Do you normally make sure to schedule annual checkups with your doctor?
"Yes, I actually have always kept up an annual checkup with my doctor since the age of 18. I always took advantage of the free annual checkup that I was given from each of my employers when I would begin a new job, and then would make sure to get one every year in between."
For some of us, an annual checkup is sufficient, and it's a wonderful start for those of us who do not currently have a doctor that we see annually. Many of us go years without seeing our physician until we find that we have to make an appointment because we just can't kick a cold on our own or because we are feeling "off our game." However, when it comes to more specialized appointments to check for a specific disorder (cancers, cardiovascular disease, etc.), many of us tend to not even think twice about getting checked.
What made you decide to get a heart scan?
"My brother had major open-heart valve replacement surgery when we were younger, in the early '60s. Then I saw it via advertisement last year while visiting a friend in the hospital after having a heart attack. To be honest, I procrastinated on it until after going to a funeral for a 58-year-old high school friend of mine who died of a heart attack. The funeral was on a Wednesday; I called and made an appointment for the following Thursday."
What were the results?
"My doctor called me within two hours of receiving the results to tell me to stop my running. I had a more thorough scan set up and was then recommended to a thoracic surgeon for our next steps."
"We thought we would be seeing her for medicine options," his wife, Julie, stated, "We had no thoughts in our heads about surgery."
"Later after going to the Cardiovascular Center at Methodist to see the surgeon, she showed us a 3D picture of an ascending aortic aneurysm in Pete's heart," Julie said. "It was 5½ centimeters wide, which is two times the size of where it should be."
The results were shocking for both Pete and Julie, and it was crucial to move quickly in their following appointments and surgery.
"If it had ruptured, I would not be here today," Pete replied. "My surgeon said she was pretty positive that I would not have lived through the rest of the month. Surgery was the only option. Within five days I ended up having open-heart surgery to remove the aneurysm on March 19, 2015, during which they also found a significant amount of plaque on my valve."
Needless to say, it is important to schedule routine appointments with your doctor—not only a yearly physical or regular checkup, but also more specific appointments to get a deeper look at high-risk areas. This requires us to make sure we have a good understanding of medical history in our families.
Do you have a history of heart disease in your family?
"Yes, so my issue was more of a genetic situation. I have six brothers and sisters, four of whom have heart valve issues that are currently being monitored, and two of whom have gone out and had heart scans done since I had my surgery."
Now that you are recovered, are you able to continue doing all the things you enjoyed before? Is there anything different?
"Yes and no. Recovery went well, but physical therapy was hard because they wanted to slow me down, while I, naturally, wanted to go faster. However, within six weeks I was able to complete the Indy Mini-Marathon with my daughter, and within three months time I went back to work. Now I am just naturally cautious of things, such as bumping my chest, etc."
"Sometimes I forget that it has only been one year since the surgery, and I have to remember that," Julie said. "I also have to make sure to have a little more patience with Pete's progress. Currently I'm not sure if he'll be returning back to his original running level, but we are very fortunate to even have him back at 60 percent of what he was."
What advice do you have for those who haven't gone to the doctor in a while?
"Make the appointment and sincerely evaluate where you want to be in the future," Julie stated. "If you have never gotten a heart scan done, or any other assessment, and [certain diseases] run in your family, there's no excuse. We got very lucky with our doctor and it was a positive influence for the both of us."
"Don't be afraid to make that first step and just get it done," said Pete. "The sooner the better; make the appointment and sincerely evaluate where you want to be in the future. What we thought would be a routine appointment turned into a life-changing one, but it was all for good in the end."
I know that for many of us, myself included, we often forget about annual checkups and assessments, or simply neglect making the appointment because we are afraid of hearing bad news or having to make changes in our lifestyle that stray from our comfortable routine. But the fact is, the sooner and more often we check in with what's going on inside, the quicker we can catch the things that can be treated in the early stages. This will help us be better off in the long run, and we can rest easier knowing that we are taking care of ourselves from the inside out!
This blog was written by Rebecca Newbrough, Lifestyle Program Coordinator and Health Fitness Instructor. To find out more about the NIFS bloggers, click here.