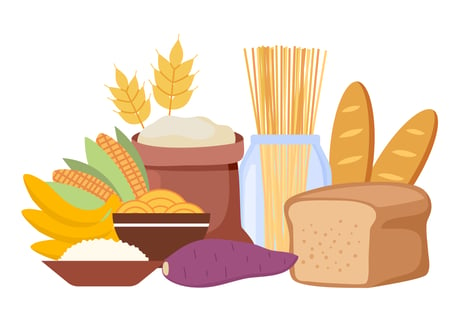 You've probably heard the saying that "not all carbohydrates are bad," but how do you differentiate between good and not-so-good for you? When it comes to carbohydrates, in order to identify which type is best, it's important to first understand the three different types of carbohydrates: sugar, fiber, and starch.
Sugar
Sugar is one of the most well-known types of carbohydrates, and more often than not, it gets a bad rap. But did you know that not all sugars are unhealthy? There are two main types of sugars: naturally occurring sugars and added sugars. Naturally occurring sugars are those found in milk or fruit, whereas added sugars are sugars and sweeteners added during processing to enhance the flavor or quality of the food. These sugars typically offer no nutritional benefit (vitamins, minerals, etc.), but they do provide calories, which is why most health professionals suggest consuming them in moderation.
The Dietary Guidelines for Americans recommend no more than 10% of your daily calories come from added sugars. For perspective, if you consume around 2,000 calories per day, you should shoot for less than 50 grams of added sugars each day. Unlike added sugars, there is no set recommendation for how many grams of naturally occurring sugars one should consume.
You can find out the number of total and added grams of sugar by looking at the Nutrition Facts label on the product. As an example, if a food has 10 grams of total sugars and 1 gram of added sugars, you can assume that 9 of those grams of sugars are naturally occurring.
Fiber
Fiber is an indigestible carbohydrate that moves through the gastrointestinal tract mostly intact, speeding up gastrointestinal transit and providing bulk to the stool. Not only does fiber keep you regular, but it also makes you feel satisfied for longer after eating and is known to aid in healthy cholesterol levels. Fiber is found in fruits and vegetables, especially those with skins and seeds; beans and legumes; nuts and seeds; and whole grains, like whole-wheat pasta, whole-grain bread, and whole-grain cereal. It is estimated that more than 90% of women and 97% of men do not meet their recommended daily fiber intake, which is around 14 grams for every 1,000 calories consumed each day (for example, 28 grams for a 2,000-calorie/day diet).
Eating too much or too little of fiber can have unwanted side effects, primarily related to the gastrointestinal tract, such as constipation, gas and/or bloating. When increasing your fiber intake, it is important to do so slowly and to drink plenty of fluids to avoid gastrointestinal discomfort.
Starch
Starches are complex carbohydrates that, like sugars, are broken down and turned into glucose, the body's primary source of energy. Starches are present in most carbohydrate-containing foods, but foods with an especially high starch content include wheat, corn, beans, peas, and potatoes. When looking at a Nutrition Facts label, you may notice that the number of grams of carbohydrates and fiber don't add up to the number of total carbohydrates listed. For example, a food item may contain 30 grams of carbohydrates, but only 2 grams of fiber and 5 grams of sugar. This means that 23 grams of carbohydrates come from starches. Similar to added sugars, there is currently no specific recommendation for how many grams of starch to eat each day, rather, how many grams of total carbohydrates you should aim for daily.
Final Notes
Overall, it is important to obtain a healthy balance of each type of carbohydrate, while focusing on limiting highly processed starches, like white breads and pastas, and added sugars. The most recent Dietary Guidelines for Americans suggest obtaining 45% to 65% of your daily calories from all carbohydrates. One gram of carbohydrate contains 4 calories, so if you follow a 2,000-calorie/day diet, you should aim for anywhere between 225 to 325 grams of carbohydrates daily, with less than 50 grams of added sugars and at least 28 grams of fiber. However, a 2,000-calorie diet is not for everyone, so speak with a Registered Dietitian nutritionist to obtain your individualized recommendations.
This blog was written by Lindsey Recker, MS, Registered Dietitian. To learn more about the NIFS bloggers, click here.