In my previous "Back to Exercise Basics" posts, I broke down the push-up and then the squat, focusing on the individual aspects that form a properly performed fundamental movement. Now it's time to take a look at the movement pattern that is considered by many to be the granddaddy of all movement patterns: the hip hinge.
Most movement in athletics (and in life) stems from a hip hinge. It is a base position that is the ultimate power generator. The hinge can be found in most movements and is a super important position and pattern no matter who you are and what your athletic event is, sports or life. Quite often, many individuals confuse the hinge with the squat; and although they are both lower-body movements, they couldn't be more different. This confusion between the two generally leads to "squat-heavy" kettle swings, poor positioning for a deadlift, and lackluster power expression.
How the Hip Hinge and Squat Differ
So if you can live with my stick-figure drawings, take a look at how these movements are different: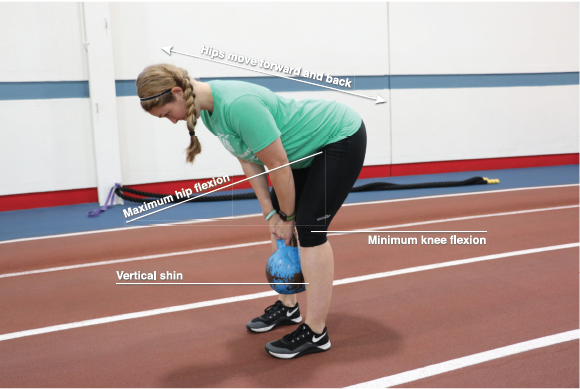 HIP HINGE
Max hip flexion with minimum knee flexion
Hip dominant
Hips go back and forward
Vertical shin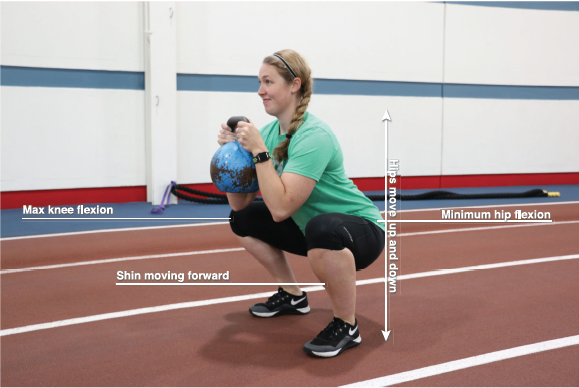 SQUAT
Max knee flexion with minimum hip flexion

Quad dominant
Hips go up and down
Shin moves forward
The differences between the two should be pretty clear when looking at them side by side, even with these crude drawings.
Videos: How to Master the Pattern
But the hip hinge can be one of the toughest things for a coach to teach, and a tough pattern for a new mover to perfect. Of course, using an FMS to evaluate your ability to perform a hinge pattern is a key first step. But after that, how can you master this pattern? Here are a few drills that can set you up for success, as well as some variations of a hip hinge that you can add into your current program.
VIDEO #1: Set It Up
Karate-chop hips—Rock and lock—Charlie
Short-stop hand slide
Broad jump freeze
VIDEO #2: Grease the Pattern
Wall butt touch
Band distracted hinge
KB front-loaded hinge
Foam roller single-leg hinge
VIDEO #3: Variations
KB deadlift
Hip thruster
SaB deadlift
Landmine single-leg/straight leg/Deadlift
Just as with the push-up and the squat, we are merely scratching the surface here of both the position and the breakdown of the hinge pattern and the many ways to use and improve this ever-important fundamental pattern. But I feel good that the information covered here can at minimum get you underway toward being a hero for the hip hinge.
Get More Help from NIFS
Want more tips and information? Schedule a personal workout plan appointment with a NIFS instructor and cover cutting-edge drills and techniques to make you the best mover you can be.
This blog was written by Tony Maloney, ACSM Certified Exercise Physiologist and Fitness Center Manager. To find out more about the NIFS bloggers, click here.