Okay, I know what you are thinking. I have conversations about Pilates almost daily with skeptical fitness enthusiasts, and so often people feel that Pilates is not worth their time. I sympathize; before I tried Pilates I thought that I had things covered with weightlifting, core work, yoga, and cardiovascular training. Why would I need to add anything to my already busy schedule?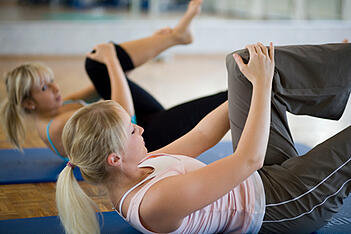 When I took my first Pilates class, I realized that I was wrong. I could barely finish any of the exercises and for several days after I was so sore that I thought I had broken a rib. I almost did not go back because I was embarrassed by how poorly I had done. I could not believe how weak, inflexible, and uncoordinated I was. Later I learned that the muscles targeted in Pilates exercises should be used in other forms of training, but that people are not always taught how to use them when they exercise. Since including Pilates in my regimen, my strength and skill has improved in all of my workouts!
The Workout Benefits of Pilates
So, why should you consider Pilates? Pilates enhances everything you do. The Pilates Method Alliance states that Pilates improves posture, coordination and balance, flexibility, and strength in every muscle group. It helps to align the body and adjust imbalances from sports. The system even increases lung capacity, circulation, joint health, and bone density. From marathon runners to baseball players, athletes in every sport benefit from Pilates.
I love that, once you are confident enough to do so, you can take Pilates with you anywhere and do it any time. It is easy to incorporate the movements and principles into your workout regimen, and you don't have to do many repetitions for the work to be effective. Even a few exercises a day will benefit you greatly!
Pilates at NIFS
Interested in trying Pilates? Check out our online Pilates Fusion class through the NIFS at-home page.
This blog was written by Morgan Sanders-Jackson a group fitness instructor at NIFS. Meet our other NIFS bloggers.