School is in session and the six weeks of training for the NIFS Summer Showdown are complete! Participants completed a workout of "partner 100s" at the beginning of the program for time. Each pair trained with a NIFS Health and Fitness Specialist to get better at the exercises required to complete the partner 100 Summer Showdown workout. After six weeks of intense training, plenty of sweat, and just plain hard work, the teams completed the Summer Showdown workout a second time to see how their times decreased. There are no winners or losers in the Summer Showdown. Each pair competed to beat their own time…and succeeded!
Alicia Peters is in the spotlight as she shares her experience of what it was really like to train for the Summer Showdown as she prepared for her upcoming wedding!
NAME: Alicia Peters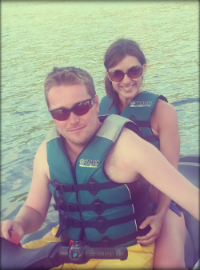 SHARE YOUR "STORY" OR A BIT ABOUT YOURSELF IN A FEW SENTENCES:
I am 26, live and work in the Indianapolis area, and like to stay fit! I particularly enjoy participating in group classes at NIFS.
NIFS PROGRAM YOU PARTICIPATED IN:
Summer Showdown
WHY DID YOU JOIN THIS PROGRAM?
I was encouraged to join the program by Stephanie, who is one of my favorite staff members! I always get a good workout when I participate on her program teams. The timing was perfect because I am getting married in September and the extra motivation to get to the gym for class was helpful during these months leading up to the wedding.
SOMETHING YOU HAVE ENJOYED:
My fiancé was my partner for the Summer Showdown program, so this was something fun for
us to do together!
SOMETHING YOU HAVE LEARNED OR SOMETHING THAT SURPRISED YOU:
I was surprised by how challenging some of the exercises were—especially the ropes/cones and the inverted TRX rows!
FAVORITE EXERCISE FROM ONE OF THE WORKOUTS?
I like the TRX suspended push-up.
WHAT ACCOMPLISHMENTS HAVE YOU ACHIEVED DURING YOUR TRAINING PROGRAM FOR THE SUMMER SHOWDOWN?
I've noticed that my arms are a little more toned*!
WHAT STRUGGLES HAVE YOU ENCOUNTERED? TIPS YOU HAVE LEARNED ALONG THE WAY?
Getting up at 5am for the gym is NEVER easy, but where there's a will there's a way!
HOW DO YOU STAY MOTIVATED?
I feel better physically and also feel more confident when I exercise.
ANY OTHER THOUGHTS YOU WISH TO SHARE:
Thank you for offering these great programs!
*Weight loss claims and/or individual results vary and are not guaranteed.
Click here to learn more about upcoming NIFS programs including our most popular holiday program Maintain Not Gain! Coming in November.