We have all heard the statistic that the average person gains 7 pounds between Thanksgiving and New Year's. This is somewhat exaggerated; the actual number is a 1-pound weight gain. However, this pesky 1 pound usually hangs on year after year, so over 10 holiday seasons that is a 10-pound gain! The goal during this time of year is to maintain your weight, which is definitely a challenge with all of the extra food gatherings.
7 Tips for Holiday Eating
Here are some tips to help survive the holiday parties and make sure
your weight is the same on January 2 as it was on November 28.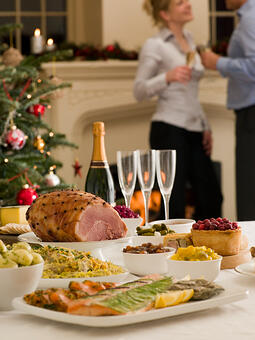 Restrict the number of alcoholic drinks at holiday parties. At a minimum it is 100 calories per drink, and depending on what you are choosing, can be as high as 400 (eggnog!). The recommendations are one drink per day for women and two drinks per day for men. Instead of adding all of the empty calories from alcohol, save those calories for filling food!
Have just single servings of your favorite foods. If you are super excited to have a food that comes around only once per year, enjoy every last bite of the single serving, wrap up some and enjoy it the next day, too.
Don't skip meals to "save room" at the party! This can lead to out-of-control eating. Instead, make sure to have balanced meals and snacks throughout the day, aiming for fruits, veggies, lean protein, whole grains, and low-fat dairy. You can even grab a snack before the party to help with the desperation eating. An apple with peanut butter, Greek yogurt and fruit, or a stick of string cheese with a handful of nuts would be a perfect filling and nutritious snack option.
Be sure to drink plenty of water throughout the day and at the party. This can help keep you full; and if your hand is already occupied with a beverage, it will be more challenging to reach for the food!
Remember that you can have some foods all year long, such as crackers, cheese, and pretzels. Choose the foods that are the most interesting and unique, and come around only once per year. Then frame it positively and say, "I want to save my appetite for the best" instead of "I am not allowed to eat these foods."
Repeat these words: "No, thanks, on the seconds. It was delicious, but I have had enough."
Instead of focusing on the food, put effort into enjoying the people and conversations, and really connecting.
This blog was written by Angie Scheetz, RD, Wellness Coordinator. To find out more about the NIFS bloggers, click here.