It's Mini-Marathon training time, which means thousands of people are logging miles to prepare for the big day. The NIFS Mini-Marathon Training Program is holding strong as we meet together each Wednesday night to complete the long run scheduled for the week.
If you have trained for a half marathon, you know that sometimes simply logging the miles can be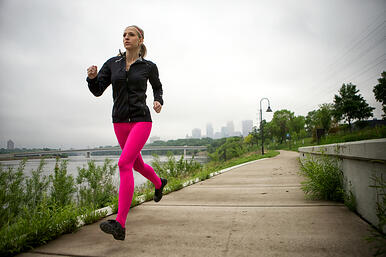 a hefty task. If this is your first time training for a half marathon, and the thought of running 10-plus miles seems a bit daunting, you are not alone.
Distance running is difficult, but it is not impossible. I have compiled a list of 10 things that keep me going when I am logging the miles, which will hopefully make your long run successful, too.
Plan. Put this long run into your schedule and set yourself up for success. If you know that your long run is tomorrow, do what you need to do to enjoy the run the following day. Things like going to bed early and drinking lots of water may be helpful, while going out and partying with your friends may not be quite as helpful.
Run somewhere you LIKE to run. I get it, running 10 miles can seem a bit monotonous at times. Some days I prefer to do my long runs through town so I can look in all the shop windows and be around a lot of people. But other times I choose to run in areas with much more beautiful, natural scenery. It doesn't matter where, just pick a place that you will enjoy for a couple of hours at a time.
Recruit a friend or have a friend meet you midway for a few miles. Sometimes when I am running by myself, a little voice inside my head starts to doubt that I can finish the long run I set out to complete. When I bring a friend along with me, she encourages me the entire way…even if she doesn't know it! Sometimes, just knowing someone else is running with me really helps me push through.
Imagine your post-race or post-run reward. Is it a massage? A manicure? A shopping trip? Frozen yogurt? (Frozen yogurt is often a favorite reward of mine!) A really yummy dinner? Whatever it is, imagine that reward and I promise it will make your feet and legs push to the distance you set out to complete.
Create a special running playlist. Music moves and motivates me, and it always seems that the perfect song starts blaring into my headphones as I reach a really steep hill at mile seven, or when I feel like giving up. It also helps me get lost and kind of forget what I am doing, which takes some of the pain away from my legs and feet! I am so serious about my music that I created a special running playlist and listen to it only while running. That way, the songs stay special and never get old.
Think of a motivational mantra to keep you going. When the going gets tough, I always tell myself that this is all mental. Another mantra that keeps me going is, "You are stronger than you think you are." Find something that works for you to keep in mind while training for your race.
Mentally break up the run. If I am running 12 miles, I think of it as three 4-mile runs to make the distance seem much more achievable. Another trick I do is plan an out and back. If I am running a 10-mile run, breaking it down to 5 miles out and then 5 miles home really helps me push through.
Compare the time you are running to something else you do for that same amount of time. This is probably one of my favorite things to do to help me get through a long run. I absolutely love group fitness, so I think of an hour-and-a-half run as a BODYPUMP class and a CXWORX class. It really helps me realize that the running time is totally doable.
Imagine yourself on race day. Racing is emotional, at least for me it is. There is nothing that beats the feeling of exhilaration and accomplishment that I feel when I cross the finish line. For me, simply imagining that feeling is enough motivation to keep pushing through, even when the running gets tough.
Think about something different each mile. This one takes a little preparation, but it can really do the trick and totally take your mind off of the distance of the run. Before you run, simply decide on the number of miles you are running, and on a piece of paper make a list of things to think about. For instance, you could write down five people you are thankful for if you are running five miles, all the things that are currently on your mind if you are running 26 miles, and the options are endless. Then place the piece of paper in a pocket or easily accessible area (maybe even in a plastic bag if you get sweaty!) and you have something to pull out if you need to take your mind off the run.
I hope you are able to use at least one of these tactics to log those miles as you train for the Indianapolis Mini-Marathon, or any other race you have in the future. Good luck with your training!
Written by Tara Deal Rochford, NIFS Membership Manager, Group Fitness Instructor, and author of Treble in the Kitchen. Meet our NIFS Bloggers.