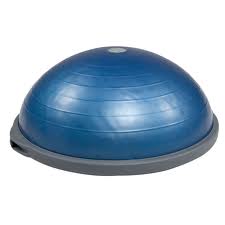 BOSU. Does that stand for "both sides utilized," or "both sides up"? To some of us, it's a half-blue ball thing that makes our crunches doable; to others, if done right, it can make some exercises downright brutal. Whatever the case may be, the BOSU ball is an intriguing piece of exercise equipment that won't soon be tossed in the Shake Weight pile. The ball, being flat on one side and domed on the other, allows its user not only a vast range of exercises, but also progressions and regressions that are easy to follow.
How to Use the BOSU
Exercise on the BOSU can be a little tricky when you are first starting out. We like to classify BOSU fitness in two categories: BOSU Exercises and Exercises on the BOSU. Exercises on the BOSU are any exercises you can do without a BOSU ball; just do that exercise on the ball (for example, squat and press, lunges, and pushups). BOSU exercises are any exercises that require a BOSU ball to complete (for example, Get down Get Up and Plank Jacks). Depending on fitness levels, you can make your exercise program easier or harder depending on where you start. The more BOSU exercises you have in a workout, the more challenging that workout will become.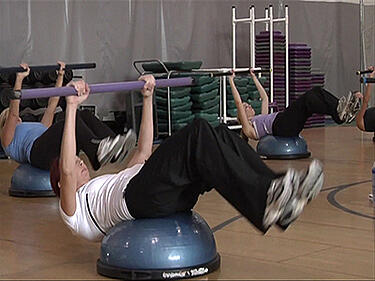 When we take a look at progressions and regressions for BOSU exercises, there are several aspects we can touch on:
Balance: For balance, we look at stability points of contact with the ball or ground as our progression/regression tool. Take away a point of contact with the ground or ball and immediately whatever exercise you are doing becomes much more challenging (dead lift vs. single-leg dead lifts). If you add a point of contact with the ground, the exercise will become easier (such as using a dowel rod to help balance while standing on the BOSU with two feet).
Senses: The other factor we like to touch on includes your movement senses (sight, touch, and hearing). For an easy demonstration, stand on one foot. Then stand on one foot with your eyes shut. On a BOSU, this would be exponentially harder. Movement also challenges the senses. Try standing on a BOSU and looking around left and right or up and down. Again, this makes your normal exercises harder. Combinations of balance and sensory progressions make for some of the toughest BOSU exercises.
Your BOSU experience may come in the form of a fitness class (check out our BOSU class video), or you may do it solo in the privacy of your own home. Fitness professionals can help you determine what progressions and regressions are right for you. The BOSU may be out of your comfort zone, but there are tools to make it easier and to build your confidence. The BOSU ball is a good tool for your fitness toolbox; take a moment and see how it can make a difference for you.
Ready to try BOSU or another group fitness class at NIFS? Not a member? Take a class for free!
This blog was written by Thomas Livengood, Health Fitness Specialist at NIFS. To find out more about the NIFS bloggers click here.