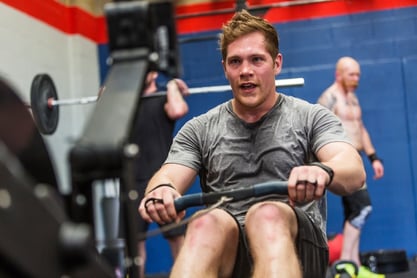 "Cardio day" are maybe the most dreaded words for a gym-goer. Or maybe you're a cardio junkie and love nothing more than knowing it's on the exercise menu for the day. In any case, most seem to have a love/hate relationship with cardio. We know we need it, but it can be a long and arduous task.
What the heck does it even mean, anyway? You hear about high-intensity cardio and low-intensity cardio, but surely one has more benefit than the other, right? Well, as always, it depends. Cardio is really just a fitness buzzword that's been tossed around so much that it seems to have lost its definition (probably around the same time the Thighmaster started to fizzle).
What Is Cardiorespiratory Fitness?
According to Wikipedia, cardiorespiratory fitness refers to the ability of the circulatory and respiratory systems to supply oxygen to skeletal muscles during sustained physical activity. Blah, blah, technical jargon, blah, blah. Basically, it's how well your heart and lungs can work together to pump blood, oxygen, and nutrients to exercising muscles. Again, it still doesn't tell us a whole lot, but we're getting somewhere.
Look at that simplified statement again and you'll notice three key words: heart, lungs, and exercising muscle. (Okay, that's four words, but you get the idea.) To simplify the discussion, I'll focus primarily on aerobic adaptations, meaning improvements in the ability to use oxygen to produce energy, which are very different from anaerobic adaptations.
That being said, the primary aerobic improvements we'll assume are the following:
We can help the heart and blood vessels improve their abilities to pump blood throughout the body.
We can improve the ability of the lungs to take in oxygen and put it in the blood.
Lastly, and this is often overlooked, we can train the muscles to become more efficient in using the oxygen from the blood.
Great, so how do we do this?
Global Improvements vs. Local Improvements
Before we answer that, it's helpful to make a distinction between the two types of improvements we're chasing: global (or systemic) and local (or specific). The first two areas (heart/blood vessels and lungs) are considered to be global changes, while improvements within the exercising muscle are the local changes.
Car analogies are helpful here (even if you're like me and know diddly about cars). You might think about the global changes as being similar to putting in a bigger gas tank or a better air intake, while local changes might be similar to adding lighter wheels and tires. One is making a change to the engine, or system, while the other is making a change to a specific part to enhance the efficiency of the system already in place.
How to Train for Cardio and Respiratory Fitness
Now, back to what we can do to make these changes in your body.
Cardio
Let's start with your gas tank, err, I mean your cardiovascular system. Your heart can either be trained to fill up with more blood, or it can be trained to contract more forcefully with each beat. But you can't do both at the same time. Depending on your training style, your heart will change in different ways. This is vastly oversimplified, but training more aerobically (think endurance athletes) will adapt your heart to fill with more blood, making it "stretchier." Training anaerobically, on the other hand, will cause an adaptation to your heart, making it thicker and stronger with each beat. Again, this is not absolute, but different training styles trigger different hormonal responses in the body. Without guidance for your training styles, some of those hormones might compete with each other. Therefore, instead of training to become really good at one thing, you might be training to become extremely average at both. Now, for competitive athletes who need aspects of both endurance and strength/power, timing becomes invaluable, and I'll refer to the great mind of Joel Jamieson on that front.
Respiratory
As for the second part, several different improvements can happen in regard to your lungs, or respiratory system. Let's focus on the more basic adaptations. First, your lungs will improve in their ability to fill up with more air, similar to the change in the heart we discussed earlier. This is partially due to the strengthening of the respiratory muscles. However, how the ribcage moves (or doesn't move) during respiration becomes increasingly important so that you don't reinforce inappropriate breathing muscles. This is a topic for another blog post, but if you're really curious, check out this in-depth intro to the mechanics of your ribcage during respiration for now.
The other major improvement in your respiratory system I'll discuss is on a much smaller, even microscopic scale. The way we get oxygen through our lungs is through tiny little sacs, just like the one in the picture here. Each sac is covered in a net of tiny blood vessels called capillaries, which is where the oxygen enters the bloodstream. With proper training this net becomes more dense, which allows more oxygen to enter the blood with each breath. More oxygen means more energy, just like more air into an engine means more power!
Muscular
Lastly, we can make changes in specific muscles if we so desire. It makes sense that a runner would want to train the legs specifically, just as a baseball pitcher trains his arm. One improvement is very similar to the change in the lungs: capillary density. Your muscles have those capillary nets just like your lungs do, and aerobic activity in a particular muscle group triggers more capillaries to form in those areas. Ergo, we get more blood and nutrients to the exercising muscle.
Another major change we see within the muscle is that muscle cell's ability to actually use the nutrients it's receiving. So, you have to both get the energy source to the muscle and make sure your muscles are using every possible molecule that they can to generate energy for your training. This happens in a number of ways, such as increasing the size of the muscle cell, increasing the amount of energy-producing mitochondria within the cell, and increased levels of the enzymes responsible for aerobic energy production.
Get Aerobic Improvements, Then Endurance, and Never Get Bored
Of course, the type of training you are doing heavily influences the adaptation you will be stimulating, but for aerobic improvements, these are some of the general mechanisms of those changes. Because the majority of people associate the term "cardio" with high levels of endurance, my assumption is typically that when somebody says, "I need cardio," what they really mean is, "I get tired really fast during my workouts." Therefore, it is almost always my priority to place an emphasis on chasing aerobic improvements initially.
After you've established a solid aerobic capacity, you can really start to push harder for longer periods if you so desire or require. Remember, your body is smart, but it's virtually pointless to be training for two completely different goals at one time, only to make crawling progress in each. Instead, if you time your training accordingly, you can consistently make the improvements you desire, and never get bored in your training!
This blog was written by David Schoch, CSCS, and FMS. To learn more about the NIFS bloggers, click here.