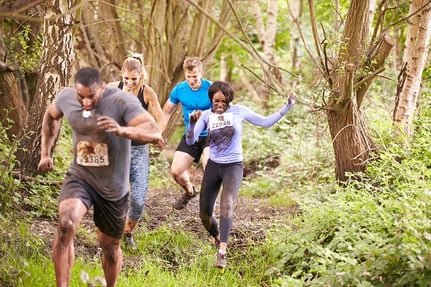 The weather is getting warmer; people are starting to take their running from the treadmill to the streets and training for upcoming spring races. With the warmer weather comes endless options for races to run and events to participate in. Maybe you are up for a new fitness challenge this year, a type of race that you have never tried before.
Obstacle course races (such as Tough Mudder and Warrior Dash) are new and exciting to a lot of runners. They bring something different from the normal concrete road races—something enticing, new, and exciting! If you are considering an obstacle race this year, here are five things to consider when picking which one is best for you.
Distance/length: A cool thing about obstacle races is that the obstacles break up the total distance of the race. You may be able to run further than you do in a typical road race because you will get intermittent short breaks from running while completing the obstacles.
Number of obstacles: Some races are full of obstacles, while others have just a few along the course. Having an idea of how many you are willing to complete will help when picking the race. Most races give you the number of obstacles before you register.
Difficulty of obstacle/option to skip: It is important before you sign up for the race to make sure you are able to accomplish the obstacles at hand; in many races you are not able to skip over them. Electric shock, crawling through mud with barbed wire overhead, monkey bars, cliff jumps… while it may be fun for some, not everyone digs this! Be sure to check out the difficulty level to make sure you are up for the challenge.
Group vs. Solo: The great thing about races is that they bring everyone together, and people are generally friendly and "suffering" through the race right there with you. Some obstacles require teamwork to accomplish, and due to the nature of the course, no doubt someone will be there to help you out. If you do it with a group, you can help each other out; otherwise plan to use your new friends to assist you.
Training: If your typical workout consists of only running, changing up your training before the race is something to consider. You want to be prepared for the obstacles that will be thrown at you. Breaking up your run with different types of strength exercises will be a great start when preparing. Stop by the

NIFS track desk

and an HFS can help you design a program that will help you prepare for obstacles.
Although these are just five factors to consider when deciding what obstacle race to run, hopefully they will help with your decision. Go out and pick one that is the best fit for you.
Happy running!

This blog was written by Kaci Lierman, Personal Trainer. To find out more about the NIFS bloggers, click here.