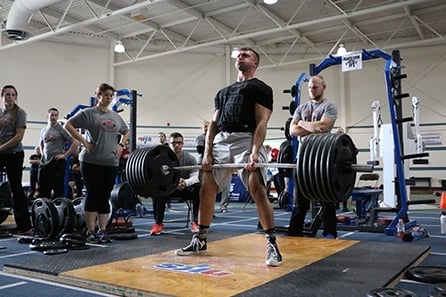 The NIFS 3rd Annual Powerlifting Competition is less than a month away, and the expectations for this year are high. From its modest beginnings, the powerlifting event at NIFS has doubled in the number of athletes registered, and the audience tripled from the first event to the second event. With big attendance and even bigger lifts, the outlook for this year's event is very promising.
For me personally, the very cool part of this growth is that although we are currently a non-sanctioned event, the competition rises year after year. It's about a community coming together to celebrate strength, competition, and sportsmanship. There is no shortage of high-fives and attaboys and attagirls on this fall Saturday morning. It is a great thing to witness previous strangers become warriors fighting the same war together; it's quite moving, and impossible not to join in and feed off the energy.
A Conversation with Lifter Aaron Sparks
I had the opportunity to speak with a two-time (soon to be three-time) participant in this great event about what it takes to compete and what struggles he had to overcome to be at his best on event day. Aaron Sparks is a longtime lifter and athlete, and also works for us here at NIFS, so he is constantly around the barbell and plates. Aaron was gracious enough to take time out of his schedule to answer some questions and to share his experiences with you. Join me as we learn what it takes to take down personal records and compete at this level.
Tony: Tell the readers a little about yourself.
Aaron: My name is Aaron Sparks. I am 25 years old and currently a student in the DPT program at Indiana University. I love fitness and everything involved with it, including bodybuilding, nutrition, and powerlifting.
Tony: How long have you been lifting for strength and big numbers?

Aaron: I started lifting recreationally about 10 years ago while playing high school football, but I didn't start taking it seriously until about 4 years ago when I started actually watching what I eat. I have been powerlifting and really trying to get stronger for the last 3 years.
Tony: Have you competed in any other fitness competitions?

Aaron: The only other fitness competitions I have been in are the two previous NIFS powerlifting competitions.
Tony: What made you take the risk and compete in the NIFS Powerlifting Competition?

Aaron: I have always loved competition and really miss it since my high school football days are over. This was an opportunity for me to show off how hard I have been working in the weight room. For the most part, not many people see all the hours you put in, so it is nice to have the chance to show people how much it has paid off.
Tony: What did it mean to you to compete in the first two NIFS Powerlifting Competitions?

Aaron: Competing was an overall great experience and the atmosphere was amazing. Everyone was there rooting for the person next to them to hit a PR, but at the same time, everyone wanted to lift more than the next guy or gal. It is always great to get a group of people together a common goal and see what they are made of. It gives everyone an opportunity to show off what they have been working for.
Tony: What struggles have you endured to lift and train the way you do?

Aaron: I'll admit the hardest part for me with working out has always been the nutrition aspect. I love food and pig out every chance I get. On a more powerlifting related note, the hardest part is approaching each week to beat the numbers you hit the week before. Sometimes you have good days, sometimes you have bad days, but you never want to regress from the week before. It's mentally exhausting to have to push yourself over and over again on such heavy reps so that you can continue making progress toward your goal.
"It is always great to get a group of people together with a common goal and see what they are made of."

Tony: As a three-time competitor in this event, what brings you back year after year?

Aaron: For me, the main motivation is trying to beat my numbers from the year before, but I also absolutely love the atmosphere of the competition. Everyone is rooting for each other, but at the same time they are trying to beat the person next to them. It's great seeing people new to the sport make progress and hit PRs. It is also a low-stress competition since it isn't sanctioned, but it also gives people the opportunity to get exposed to the sport.
How Far Can You Go?

Aaron has placed in the top 2 of his weight class each year he has competed in this event. I know what he is after this year: VICTORY. And with his dedication to improvement, through countless workouts and nagging injuries, he is determined to be better. Aaron took a risk a few years ago in signing up to represent himself among a strong group of competitors and has reaped the rewards. T.S. Elliot once said, "Only those who will risk going too far can possibly find out how far one can go." Are you ready to see how far you can go?
There are a few spots remaining, so don't wait to get registered for the NIFS 3rd Annual Powerliting Competition. Sign up today to be a part of a very special event hosted only once a year!
This blog was written by Tony Maloney, ACSM Certified Exercise Physiologist and Fitness Center Manager. To find out more about the NIFS bloggers, click here.