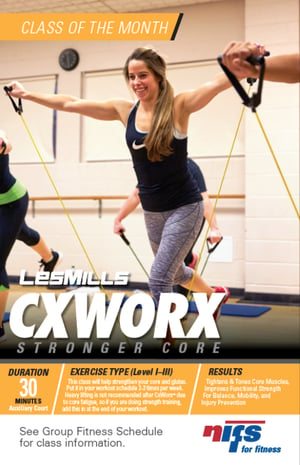 CXWORX is all about building core strength, which is important for living a more functional life. CXWORX targets the trunk, which is the area from the mid-thigh to the shoulders, and includes both the front and back sides of the body.
CXWORX is a 30-minute choreographed group fitness class created by Les Mills. It begins with a warmup and breaks off into working different sections of the core with movements both on the mat and standing. Participants use a resistance tube to add load to the muscles to increase muscle strength.
The Importance of a Strong Core
Most people think about a strong core as six-pack abs and doing sit-ups. The core is made up of more than just abs, but exactly as it sounds, it's the core of your body. Building strength in those muscles will benefit you for the rest of your life. All movements stem from your core and provide support for everyday tasks you perform.
Having a strong core is of huge importance when it comes to balance and stability. Strong core muscles will also help improve your posture. Having good posture is better for your spine, prevents lower back pain or injuries, and allows you to breathe easier. Having a strong core helps you stand taller and straighter.
Working the Core
Working the core is more than just doing sit-ups. CXWORX is beneficial because it incorporates many movement patterns and exercises to strengthen and tone all muscle groups associated with the core. Trunk flexion and extension, trunk rotation, lateral trunk flexion, abdominal compression, and spinal stability are all movement patterns that you will perform in a CXWORX class to help build a balanced, strong core.
Check NIFS's Group Fitness Schedule to find a class time that's convenient for you!
This blog was written by Brittany Ignas, BS in Kinesiology, 200 Hour Yoga Alliance Certified, Stott Pilates Certified, and Fitness Coordinator. To find out more about the NIFS bloggers, click here.