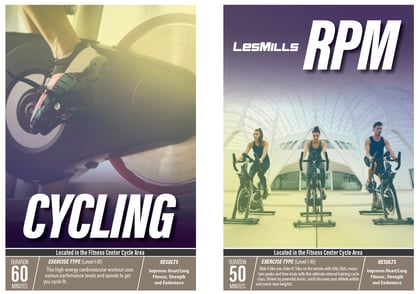 Cycling is becoming one of the most popular trends in group fitness. Not only is it a great class to take for the cardio benefits and calorie burn, cycling is a great resistance-based workout that can also increase strength. Many cycling classes are tracked in two ways, by RPM or BPM. RPM stands for "repetitions per minute," and BPM stands for "beats per Minute." Each form is usually cued by an instructor to ride to a particular beat. Both are great options; which one to choose just depends on personal preference. If you like music, you might enjoy a beat-driven class more. If you enjoy competition, you might enjoy an RPM-style class more.
Not only can a cycling class burn up to 600 or 700 calories a session, cycling classes are also fun to participate in due to the motivation to push and work hard from the instructor and the fun music played in class. With each person being on their own bike, participants control their own resistance with guided cues from the instructor on approximately how much resistance to add. This makes the class a great option for all levels, since each individual is in control of their own resistance. Resistance is recommended based on the kind of track an instructor is teaching. For example, if the instructor is cuing sprints, they might also cue for lighter resistance so you can move as quickly as possible. If you are simulating a hill, you might be cued to add a lot of resistance to make you have to use more strength and power to "get up the hill."
Benefits of Group Fitness Cycling Classes
Among the benefits of this group fitness class are the following:
Low-impact cardio option
Stress release
Cardiovascular
Muscular endurance
What to Know Before Your First Class
If you have not been to a cycling class before, have no fear! If you are on your way to a class, try to get there 10–15 minutes early. This gives you time to meet your instructor and learn how to set up your bike appropriately for your height. Usually a studio will have shoe rentals or bike cages to be worn with normal shoes. If you would like to purchase cycling shoes, you can find many different options online.
Cycling at NIFS
Cycling is offered daily at NIFS at a variety of times. Check out the Group Fitness Schedule to find a class that works with your schedule!
This blog was written by Brittany Ignas, BS in Kinesiology, 200 Hour Yoga Alliance Certified, Stott Pilates Certified, and Fitness Coordinator. To find out more about the NIFS bloggers, click here.