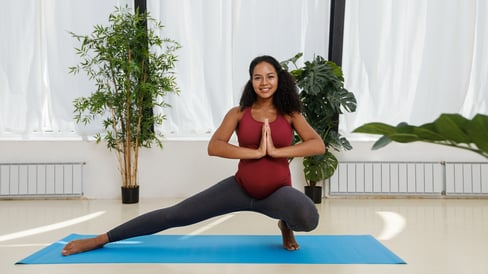 Today, the realities of the human body immediately after giving birth are less mysterious than ever, a development some attribute to a changing climate around motherhood. In the past women felt like they couldn't talk about the after-effects of having a baby, let alone caring for other children at the same time.
Everything Is Different and There Is Pressure from All Directions
People don't talk about the messy postpartum "situations" that take place, the frustrating and sometimes painful process of figuring out breastfeeding, the wound care necessary for the area the baby came out from, oh and let's not forget waddling around the house wearing whatever undergarments can hold everything together. And how about the best-kept secret of icepacks!
And how can we forget the added stressors of life in general. Maybe you're hearing and feeling things like this:
Make sure you work out during your pregnancy.

Be sure to only gain 25–30 pounds throughout this whole 9 months.

Don't forget to take care of the other kid/kids you have.

Please make sure that report is on my desk by 9am tomorrow.

Clean the house.

Work 40+ hours a week.

Make dinner.

Drive the older ones to school and sports.
And on and on and on…
DON'T PANIC! It's natural to feel exhausted and unfamiliar in your new body and new life. From the time you become pregnant to the time that you give birth, each is a new beginning and an exciting chapter in your life.
The mental difficulties of pregnancy and the first few months after giving birth can be more challenging than the physical effects. Your body will begin to change from its previous state back to its new normal: shedding water weight, frequent trips to the bathroom (again), after-birth contractions as the uterus shrinks back down. If you are breastfeeding or not, there will be pain involved. Let's not forget the hormonal change that will take place. All of this can lead you to having "baby blues" or feelings of postpartum depression. You are trying to adjust to a new life and a new baby, and these stressors can cause low self-esteem and doubt.
Tools for Confidence in the Postpartum Time
Do not give up! You are the same strong woman who just grew a child and gave birth, and you are who you have always been, but now you have someone else to share your strength with. The more you start to believe in yourself, the happier you will feel and be. Some stress relievers that helped me during my "baby blues" moments are the following.
Get Some
Fresh Air
Getting outside for fresh air can help lift your mood. There are also many benefits of walking that include stress reducers. Take a walk by yourself, or take that precious new baby out for some fresh air.
Communicate
Having a new baby can make you feel as though you are alone. Making an effort to connect with friends, join a mommy and me group, or reach out to other moms can help you indulge in adult conversation and not feel isolated.
Take Time for Yourself
Ask for help. Making time for yourself will not only allow you a minute to breathe, it will also help you become a better mom by taking care of yourself.
Feel More Secure
Body confidence is typically the first issue that woman deal with after giving birth. Your body has spent the last 9 months stretching to make room for a growing baby. As long as that took, your body needs time to recover. Most of us do not bounce back as quickly as we would like and that's okay. After having my first child, I felt like I bounced back better than I had anticipated, but the second one made me feel otherwise (and still does!). My body changed so much after having my second child. One of the hardest things for me was not feeling confident and realizing that this is my new body.
Love the Skin You're In
Even if you don't have anywhere to go, try to get up and make an effort every morning. Wear your favorite outfit, put on a little bit of makeup. Find a way to feel good about the day at the very beginning.
Make Time for Healthy Eating and Exercise
Probably the hardest of them all are these two! Without a doubt, eating healthy and exercising tend to be the last things on our minds after having given birth. The best advice I can give you is to plan ahead. During those months where nesting sets in and you have energy to get things done like the nursery and shopping, throw meal prepping in there as well so that you'll have some healthy options ready to eat after the baby comes.
When it comes to exercising, once you are cleared after 6 weeks, start slow and build from there. Try bodyweight exercises, or walks working into a jog/run. When stay-at-home restrictions are lifted, find a friend to join you at the gym, find a class that you can ease intensity into, or join a program geared toward weight loss/strength. Find what fits you and your schedule.
The Toughest Job You'll Ever Love
Well soon-to-be, new, and veteran moms, I am here to tell you that the world is unfair, the jobs we have as mothers will continue to be the hardest jobs we'll ever have. We will have good days, we will have bad days; we will have days that we want to run, and days when we have conquered the world. There will be days where we ask ourselves why we decided to do this, and days where we doubt every decision we made. It will be a constant cycle, of good, bad, bad, good, and so on.
Whatever situation you are in currently, I can say with confidence that YOU WERE MADE FOR THIS and YOU CAN DO THIS! There is no greater creation than that of a woman. LOVE YOURSELF! TAKE CARE OF YOURSELF! and ASK FOR HELP!
This blog was written by Ashley Duncan, Weight Loss Coordinator. To Learn more about the NIFS bloggers, click here.