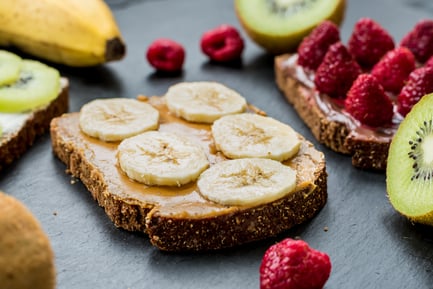 Do you feel like you get stuck in a rut eating the same things from week to week? On one hand it makes life a lot easier, right? You don't have to scour through recipes, find that one illusive ingredient on the top shelf in the last aisle you looked in, or put the effort into prepping a meal that claims "30-minute prep" but in fact took you two hours. I completely understand!
What if instead of a total diet makeover you just try a few small things—that might in fact add up to a more diverse diet? And it just might end up being healthier!
Flaxseed
Bob's Red Mill sells whole flaxseed and ground flaxseed (called "meal") at most stores—usually next to the baking items or in the cereal aisle by the oats. Flaxseed is so versatile. It's full of healthy fats and fiber. It has a subtle taste that many won't notice, especially in small amounts. Flaxseed is great for putting on top of oatmeal, adding to a fruit and yogurt parfait, and even substituting in a recipe as egg (flax egg)! Just make sure to grind the whole seeds as you use them to obtain the freshest healthy fats, or keep your flaxseed meal in the fridge because the fats do start to spoil at room temperature after a few months.
Bananas
Top your toast with something besides butter. Spread a thin layer of nut butter like peanut butter or almond butter on top of toast and add thin slices of banana. It's a great way to get your protein and healthy, fiber-loaded carbohydrates every morning. Not willing to part with the usual breakfast? Freeze your ripe bananas and blend them with a little peanut butter, milk of your choice, and chocolate chips for a sweet treat similar to ice cream!
Applesauce
Keep unsweetened applesauce in the fridge for occasions where you are baking. Applesauce is a great substitute for oil or eggs. One tablespoon of applesauce is equivalent to one egg, and you can substitute equal amounts for the oil.
Tofu
Trying Meatless Mondays in the New Year? Substitute tofu for any of your go-to meats. But if the texture is an issue, here's what you do: Grab an EXTRA FIRM block of tofu (usually found near produce), cut into small cubes about half an inch or less, spread on a baking sheet with parchment paper, and bake at 375 for 25–30 minutes or until the tofu is golden brown and crispy. You can then easily toss your tofu into your stir-fry or fajita pan, or toss it onto your salad and avoid that soggy, wet mess that tofu can easily turn into.
Chickpeas
This little legume, also known as a garbanzo bean, is protein-dense and nutrient-rich. Pick up a super-cheap can of these beans in the canned goods aisle and add them in for snacks and meals. Simply toss in a little bit of olive oil, season with a little salt and pepper, and bake in the oven on a baking sheet for 20–25 minutes at 375 until they are crispy. Toss on salads, mix in with quinoa, and top with your favorite sauce (we love a little citrus–olive oil mixture or even a soy-ginger dressing!), or eat them all by themselves.
Try just one of these new ideas this year—you might just find it becomes one of your go-to foods that you'll grab on a quick weeknight trip through the grocery store.
This blog was written by Lindsey Hehman, MA, RD, CD. To learn more about the NIFS bloggers, click here.