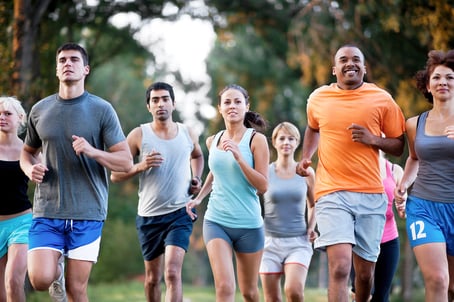 For years people have been running in marathons and half marathons, 10Ks and 5Ks. And most recently the wide world of racing has taken a turn for themed runs, which is quite exciting if you have ever been to one! But no matter how many years go by, two goals continue to come up: running farther, and running faster.
We often hear someone say, "I want to be able to run farther than I did before." We see it all the time: "I am going from the couch to running a 5K," or "Last year I completed the 10K, so this year I really want to try the half marathon!" The other thing we hear is, "I like the distance that I am running, but next time I want to cut off 10 minutes." The goal is to keep going faster and breaking a personal record. But which one is better—which goal should we strive to accomplish?
There are hundreds of programs out there that help you with one of the two goals: programs that are designed to help you increase your distance over time, or programs that are designed to keep your distance but increase your pace. And the good news is that both types work for different people.
Kris Berg, an exercise physiologist and professor at the University of Nebraska Omaha, says that after several decades of studying how an athlete can increase their endurance, he continues to lean on the profound answer of "The person needs to do what feels right for them." Every person is made up differently genetically, and every method works differently for each person. It's important to listen to what your body says, and if you can't go farther, work on going faster, and if you can't go faster, work on going farther!
Let's take a look at each of the two common goals more in depth.
Common goal #1: Being able to build endurance and go farther over time.
The first and most important thing to keep in mind with any sort of training (and not just endurance running) is that adaptation and change are gradual. You will not be able to run 3 miles today and 16 miles tomorrow. Building gradually is vital to grasp before you set an overall goal, which must be realistic. Gradual adaptation means gradual, patient, and consistent.
Another trick to being able to run long distances is to not start off too fast. Many people don't make the distance they want because they are running at a pace that they cannot sustain. Find a pace that works for you!
One other vital point to make when working on building your endurance: don't overtrain. In most marathon training programs and endurance building programs out there, you will not see more than three days worth of running per week. You need to allow your body time to rest between runs.
Common goal #2: Working on speed to shave off some time from your last race.
Disclaimer: working on speed is hard; be prepared to be mentally tough and stick to the workouts. When working on speed you will want to focus on some interval workouts. These are workouts that you are pushing at a fast pace for a certain period of time, then slowing down to recover before the next interval starts.
And a final tip: If you want to run faster, you need to make your legs stronger. By doing some strength training and building up muscle mass, your speed will increase.
***
This blog was written by Amanda Bireline, Fitness Center Manager. To find out more about the NIFS bloggers, click here.