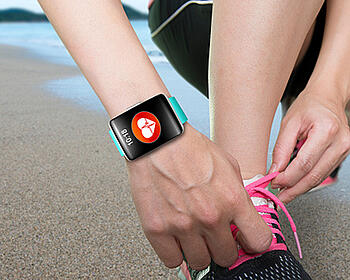 There are several different ways that you can train. Common training methods are interval training, total time and sets/reps, but heart rate training is one that is growing in popularity. Heart rate training has different zones in which subtle physiological effects occur that will enhance your fitness. This type of training can benefit a variety of people who are exercising from the most elite athlete to the least-fit person!
What Heart Rate Training Is
Let's take a deeper look into what heart rate training is. There are different zones that you want to train in depending on what your goals are. Zones are simply a range of heartbeats based on how frequently your heart is beating. Let me describe the different zones to you:
Heart-Healthy Zone: This zone is 50 to 60% of your maximum heart rate and is generally easy and comfortable to exercise in. You may be breathing a little heavier than your general breathing pattern goes, but you will be able to carry on a full conversation.
Fitness Zone: This zone is 60 to 70% of your maximum heart rate and is a little more challenging than the Heart-Healthy Zone. You will be breathing a bit more heavily and have some shortness of breath, but you should still be able to carry on a conversation. This zone is used for weight loss and building endurance.
Aerobic Zone: This is 70 to 80% of your maximum heart rate and is considered much harder work. You will be breathing heavily and unable to have a conversation, and able to speak in only short phrases. The Aerobic Zone is used to train for endurance and encourages your body to build new blood vessels and increase your lung and heart capacity. This zone is used for maintaining weight and improving your cardio fitness.
Anaerobic Zone: 80 to 90% of your maximum hart rate. This is intense exercise and you will be unable to speak except in gasps.
Red-line Zone: This zone is 90 to 100% of your max heart rate and you will not be able to stay in this zone for more than a minute or two.
Calculating Your Zone
Now we need to take a few minutes to calculate your zone, which is done by finding your maximum heart rate and your resting heart rate. One method that is used quite often is to subtract your age from 220. So if you are 40 years old, 220 minus 40 is 180, so your max heart rate would be 180.
However, this method does not take into account your current fitness level, which can vary your max heart rate by up to 10 to 20 beats per minute! You can also use this calculator to estimate your zones.
Tracking Your Heart Rate
With all the different forms of fitness technology, tracking your heart rate is getting easier. Standard heart rate monitors sync with the machine to show your heart rate. Fitbits, Jawbones, and other fitness tracking devices work. And, of course, the machines have heart-rate sensors on them. Take a week in the final winter weeks and try some heart rate training!
This blog was written by Amanda Bireline, Health Fitness Specialist. To find out more about the NIFS bloggers, click here.