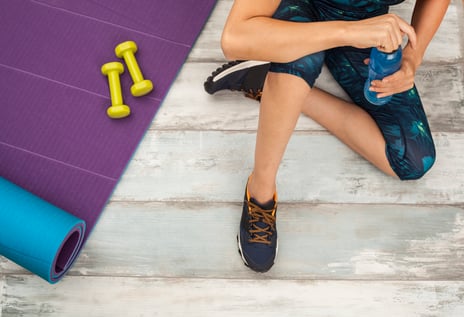 Sodium, potassium, magnesium, calcium, phosphate, and chloride are all electrolytes, or minerals that fulfill essential roles within the body. More specifically, sodium, chloride, and potassium work together to maintain fluid balance within the body, while magnesium and calcium promote optimal muscle function and aid in energy metabolism.
An imbalance in one or more of these electrolytes can lead to disrupted bodily functions, which may present as dizziness, headache, fatigue, irregular heartbeat, muscle cramps, dark-colored urine, mental confusion, or nausea and vomiting. Typically, the average adult is able to maintain adequate electrolyte levels by consuming a well-rounded, healthy diet and staying hydrated.
How Are Electrolytes Related to Exercise?
Electrolytes are primarily lost through urine and sweat, which is why it's so important to hydrate before, during, and after physical activity. The amount of electrolytes lost during exercise varies greatly from person to person, but also depends on the length and intensity of exercise, the individual's body composition, the type of clothing worn during exercise, and the environment or climate in which the exercise is performed. On average, athletes can lose anywhere from 1 to 3 liters of fluid per hour of intense exercise, and in turn lose a significant amount of fluids and electrolytes.
How Do I Properly Replenish Electrolytes After Exercise?
Electrolyte replacement is most important during high-intensity activity that occurs for longer than 1 hour, or anytime when heavy sweating occurs, such as in high temperatures. Typically, water and a balanced snack are enough to replenish electrolytes after most exercise sessions. Ideally, choose a snack that has a balance of sodium- and potassium-rich foods, such as a banana with peanut butter, a hard-boiled egg and a piece of fruit, or yogurt with nuts. However, for physical activity that lasts longer than 60–90 minutes, a carbohydrate-containing (10–20 grams per 8 ounces) electrolyte replacement beverage may be appropriate. Be cautious, as many electrolyte replacement beverages are high in added sugars and empty calories.
Remember, just like not consuming enough electrolytes, too many electrolyte-rich foods can cause electrolyte imbalances with undesirable side effects. Speak with a registered dietitian nutritionist (RD/RDN) to learn more about your individualized fluid, electrolyte, and other nutrition needs.
This blog was written by Lindsey Recker, MS, RD, NIFS Registered Dietitian. To learn more about the NIFS bloggers, click here.