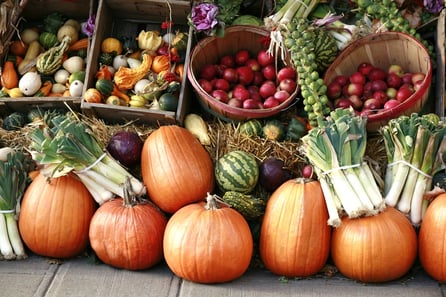 The air is crisp, football season is in full swing, and the plentiful bounty of summer's gardens is all gone. Instead of reverting back to the frozen fruit and veggie staples that are typical of fall and winter, experiment with some of the tasty foods that give fall the name the harvest season!
Favorite Fruits and Vegetables for Seasonal Eating
Here are some of my favorite fall foods and the nutrients they provide.
Apples: Easy and portable for a lunch bag or a snack. They are also high in fiber and can help decrease cholesterol. (Read more about apple nutrition.)
Acorn squash: Packed with Vitamin A and C to keep your immune system healthy during flu season.
Brussels sprouts: These little balls of cabbage are known to be cancer fighters.
Grapefruit: Citrus comes into season in late fall, so grab these pink treats that are high in fiber and immune-boosting properties.
Parsnips: Not as starchy as a potato and loaded with fiber, vitamins and minerals, and antioxidants.
Pears: Another fruit that comes in season in the fall and is full of Vitamin C and fiber.
Pumpkin: The most popular of the fall produce is great for more than decorating! One cup of canned pumpkin has 7 grams of fiber, which is one-third of your daily needs.
Spaghetti squash: This fun alternative to pasta is high in beta carotene, potassium, and antioxidants.
Turnips: Surprisingly high in Vitamin C; if you eat the greens, you add a ton of Vitamins A, C, B6, and calcium and magnesium.
Fall Recipes
Try these recipes as a way to incorporate some of these fall powerhouse foods into your meals.
Turnip, Apple, and Acorn Squash Soup
1 acorn squash, peeled and chopped
3 medium turnips, peeled and chopped
3 small or 2 medium apples, peeled, cored, and chopped
4 tbsp olive oil
2 cups water or low-sodium vegetable broth
½ tsp sea salt
1 tsp pepper
fresh cilantro for garnish (optional)
Heat olive oil in a large pot over medium heat.
Add chopped acorn squash, turnips, apples, and salt and pepper to pot and continue to cook on medium for 5–10 minutes, then reduce heat to medium-low and continue to cook until ingredients are softened, about 45 minutes.
Once ingredients are softened, add water or low-sodium vegetable broth and continue to cook for another 5–10 minutes on medium heat until soup is warm.
Remove pot from heat and add through blender or food processor, or use immersion blender.
Garnish with fresh or dried cilantro and serve. Serves 4.
Roasted Brussels Sprouts with Pears and Pistachios
1 pound Brussels sprouts, halved lengthwise
3 Tbsp olive oil
½ tsp salt
¼ tsp black pepper
1 pear, halved lengthwise and cored
¼ cup shelled pistachios, chopped coarsely
Juice of ½ large lemon
Preheat oven to 425°F. Place the prepared Brussels sprouts on a baking sheet and pour on the olive oil, salt, and pepper. Place the pear halves, cut sides-down, on the baking sheet, making sure there is enough oil to coat their cut surfaces.
Roast the Brussels sprouts and pear for about 20 minutes. Then turn the Brussels sprouts so that both sides become caramelized. Check the pear—it might not be caramelized at this point.
After another 10 minutes, turn the Brussels sprouts again. Flip the pear. Reduce the oven heat to 375°F.
Add the pistachios—you just want to heat them up and toast them slightly.
After 5 minutes, remove the baking sheet from the oven. Squeeze lemon juice directly over all the ingredients. Use your spatula to chop up the pear halves. Toss everything thoroughly. Serves 2.
This blog was written by Angie Mitchell, RD, Wellness Coordinator. To find out more about the NIFS bloggers, click here.