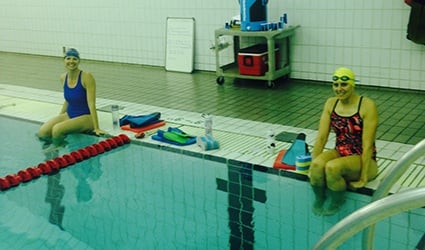 You have heard it over and over again: If you are not swimming, you are missing out on a great low-impact, total-body workout. If you were sore from beating yourself up from running on the roads or lifting earlier in the week, you will find yourself feeling much better after a good swim.

If you are like me, though, swimming is not your first choice of exercise, and you find it hard to find the motivation to get to the pool when there are so many other options that you find more enjoyable.
I am fortunate enough to have a great group of ladies who are committed to heading over to the IU Natatorium twice a week to get in a good swim session. Swimming is not my favorite fitness activity, but it has grown on me and I know that it has great health and fitness benefits*. So I have convinced myself that I need to do it! Even though we are all very committed and consistent with our swimming, we still try to talk each other out of it.
Common discussion and thoughts before and on our way to the pool:
Are we really going? Why are going? What if we just go run or bike or lift or do yoga instead?

I can't go today. I just went spray tanning.

I think Starbucks is open?

Cold walk all the way over there! Can we go to the steam room, sauna, or whirlpool instead (or before)?

I really shouldn't even go until I get my new suit, which will be on its way as soon as I order it.

Wait, should we check to see if the pool is closed today?

Am I out of visits? Too bad if I am, because I don't have my wallet.

Oh no, there are no empty lanes. Maybe we should do this another time?

The water is so cold…is this colder than it usually is? Why are we doing this? Can we go get coffee instead? It's not too late!

Is the warm pool open today?

We have been sitting here with our feet in for 15 minutes. If we don't get in soon, we will have to leave.
What we are thinking during the workout:
What is the workout again?

If I can get through this, I can have coffee after.

This is hard. I can't breathe. My arms are tired. Why I am not getting better?

I kind of need to use the restroom…I think I can hold it…I better just hold it.

Why do I do this to myself?

This pool got really hot all of the sudden.

Wow, I'm getting better at this! I am fast!
What we talk about and think about after:
That was great! I feel so much better than I did before we started.

I am awesome!

When are we coming back this week?

What is our next workout? I think I need more speed work next week.

I really need to buy longer fins and a new swim cap.

I am going to sleep good tonight.

I can't wait for this warm shower and lunch.

Why do we complain so much? I now understand why people have a hard time committing to exercise. But it feels great at the end!

Another one in the books!

*Weight loss claims and/or individual results vary and are not guaranteed.
This blog was written by Stephanie Kaiser, Fitness Center Manager. To find out more about the NIFS blogger
s,
click here
.