NIFS 2nd Annual Powerlifting Competition happened November 14 in front of a packed house filled with excited onlookers, friends and family of the athletes, and "heavy metal" enthusiasts. The event doubled in size in one year's time, with competitors from all over the state as well as some of our strongest NIFS members!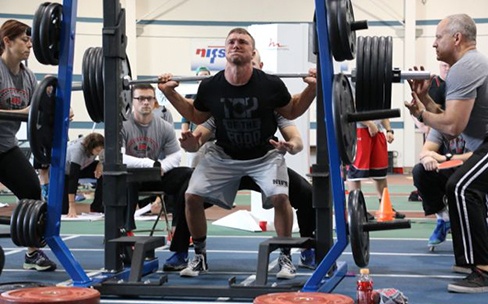 The fitness center floor was transformed into a makeshift coliseum so all could witness the battles that took place on those power racks and platforms. One could easily learn a great deal about the art of powerlifting, but I witnessed some rather big life lessons on display that were just as powerful as our two champions!
1. Success Favors the Prepared
From the athletes to the support team, success in this event was determined by the level of preparedness and not leaving anything to chance. Preparing for that day resulted in personal records and championships for the athletes and a smooth order of events for the support team. And although the training was difficult and time consuming, putting everything you have into the preparation for anything that you want to achieve is a surefire way to accomplish what you seek.
2. Dynamite Comes in Small Packages
The 2015 Female overall champion weighed in at 124 pounds and pulled 300 pounds off the floor! Now that's a small package with a HUGE detonation! Although many challenges in your life will be bigger than you, it is possible to overcome them no matter the size of your resources; just keep pulling.
3. Sportsmanship Is ALIVE
Unfortunately, hardly a week goes by that we do not witness an act of disrespect and lack of sportsmanship in some arena of sport in the media. Some are worse than others, of course, but it sometimes can be hard to believe that athletes are competing solely for the thrill and reward of the competition itself. I was reminded at this event that sportsmanship does live on, and it was so inspiring to see athletes support and motivate their fellow competitors. Being more excited about someone's accomplishments than your own is contagious, and it's an overall victory for those involved.
4. Failure Breeds Success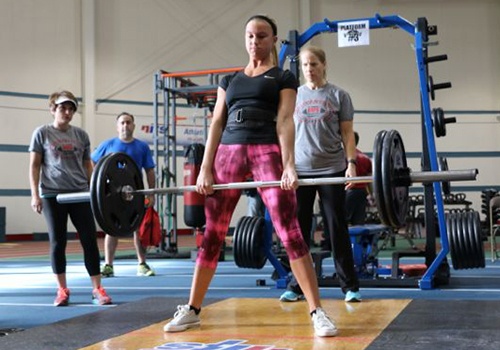 I have always been a strong believer that failure does breed success, and that sometimes you win and other times you learn. Seeing an athlete fail to complete a lift, almost immediately learn from any mistake that occurred in the preceding lift, and step up and knock out the next one is the truest example of this philosophy. Learning from a mistake, correcting what needs to be corrected, and having the heart to try again is true success.
5. The Bigger the Dream, the Better the Team
NIFS's first attempt at hosting a powerlifting event was a modest, yet very successful venture that set the tone for future competitions. Due to its success, the event doubled in size and challenges in providing a quality event. Having likeminded and supportive people involved in planning, staging, and putting on an event like this makes those challenges shrink. The staff and volunteers who showed up that Saturday and worked tirelessly is what has allowed the success of this event. And I can't help but realize that everyday, our lives, is an event; and it takes a strong support team to be successful. We can't do it on our own! Be sure to thank those that make your everyday events a success!
I know I speak for the rest of the team, NIFS, and the community when I say we are already counting down the days to next year's big event! Keep your eyes and ears open for the details!
This blog was written by Tony Maloney, ACSM Certified Exercise Physiologist and Fitness Center Manager. To find out more about the NIFS bloggers, click here.