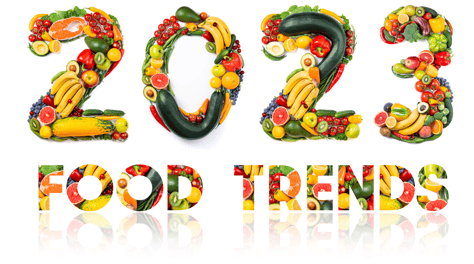 While having a New Year's Resolution to "lose more weight" isn't a bad thing, it's not easy. And depending on how much you want to lose and in what time frame, it's not always realistic. To benefit your overall health without focusing on your weight, try setting (and sticking to) some of the following nutrition-related resolutions going into 2023.
Eat More Fruits and Vegetables
About 80 percent of the US population doesn't meet their fruit intake recommendations, while close to 90 percent do not meet their suggested vegetable intake (source: CDC). The Dietary Guidelines for Americans encourage adults to consume around 2–2.5 cups of fruit per day and 2.5–3 cups of vegetables per day. Although this may be a lot for some, simply aiming to eat one additional fruit or vegetable each day is still beneficial.
Drink More Water
Water is essential for the body. It aids in digestion, regulates body temperature, cushions joints, and helps remove wastes from the body. Not drinking enough water increases the risk for dehydration, which can cause dizziness, confusion, fatigue, headaches and dry skin and mouth (source: CDC). A general rule of thumb is to consume at least 1 milliliter of water for every 1 calorie consumed. For example, if you consumed 2,200 calories per day, you would want to aim to consume 2,200ml, or 2.2 liters of water per day.
Consume Less Alcohol
Excess alcohol intake has both short- and long-term health consequences. In the short term, drinking too much can result in risky behaviors, injury, or violence. Over time, excessive alcohol use can lead to the development of high blood pressure and heart disease, certain cancers, weakened immune system, learning and memory issues, and social problems. Most professional health organizations such as the CDC and WHO agree that men should limit alcohol intake to less than two drinks/day, while women should aim for less than one drink per day (source: CDC).
Decrease Sodium Intake
The Dietary Guidelines for Americans suggest consuming less than 2,300mg of sodium per day to promote optimal health and reduce the risk of heart disease, the leading cause of death for adults in the US. However, in the US, the average sodium intake for individuals older than 1 year of age is ~3,400mg/day. Strategies for reducing sodium intake include cooking at home more often, using herbs and spices to season foods rather than salt, and consuming fewer packaged/prepared foods.
Limit Saturated Fat Consumption
Like sodium, excess saturated fat consumption is linked to an increased risk for heart disease. The Dietary Guidelines for Americans suggest limiting saturated fat intake to less than 10% of daily calories, while the American Heart Association recommends even less, at less than 5–6% of daily calories from saturated fat per day. Saturated fat is found in most animal-based foods such as beef, poultry, pork, full-fat dairy products, and coconut and palm oils. To cut back on saturated fat, reduce your intake or eat smaller portions of the foods listed above and replace them with healthier options, such as fat-free or low-fat dairy and lean cuts of meat.
This blog was written by Lindsey Recker, MS, RD, NIFS Registered Dietitian. To learn more about the NIFS bloggers, click here.