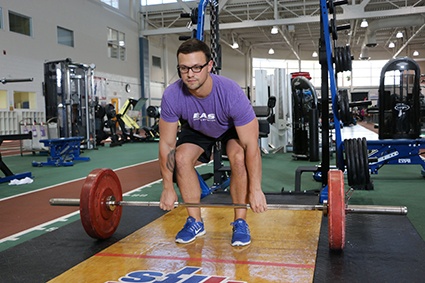 At times you may hear somebody at the gym or fitness center saying, "I don't want to look like a bodybuilder," or "I don't want to be a powerlifter." That's great! That person knows their goals and also what they want to avoid. However, don't let your specific goals cause you to have myth-generated fears of certain exercises.
Extreme Lifting Programs
Just take a second to think about what exactly a bodybuilder or a powerlifter has to do in order to earn his or her title. A bodybuilder must train with heavy weights, high intensity, and a whole lot of volume (reps and sets). Not only is the training extremely specific to what they do, but they have to do it for years to even be considered an amateur! I haven't even mentioned a bodybuilder's diet. Bodybuilders can consume 8,000 to 9,000 calories per day to gain muscle the way that they do!
A powerlifter's training is just as specific to their sport. They train with very heavy weights and high intensity, but lower volume. A powerlifter pushes his or her body to an extreme level by slowly loading more and more weight into the program over time. A powerlifter can also consume upwards of 7,000 to 8,000 calories per day in order to fuel his or her body to perform at such a high, strenuous level.
All in all, extreme athletes such as professional bodybuilders and powerlifters follow very intense and specific programs that have gotten them to the level they are at today. What does that mean for the normal gym-goer? It means that there should be no fear of looking like a bodybuilder or a powerlifter unless you are following that specific style of program or eating that amount of food.
The Benefits of Lifting Weights
So far, I have given you reasons why you shouldn't avoid weightlifting, but now I will give you specific reasons why you should be lifting weights.
Strengthening bone: Lifting weights can add bone density, which will really pay off in later years, possibly saving you from injuries and expensive surgeries.
Adding stability: When weight training, you are forced to recruit stabilizing muscles. These will become stronger and allow you to perform physical functions more efficiently.
Boosting your metabolism: That's right; lifting weights burns calories! You will be burning calories during a weightlifting session, but also afterwards. Your metabolism can get a positive effect from weight training, causing you to burn more calories throughout your day*.
Increasing Fat Free Mass (FFM): Weight training will help to build muscle, which is included in FFM. So, if you do it correctly, you can effectively burn fat and gain muscle through weight training*. Sounds like a win-win to me!
Increasing functionality: So when your friend says "Hey, can you help me move into my new house this weekend?" you don't have to dread saying yes! If you have grown accustomed to lifting weights, you will be well prepared for events like moving furniture, yard work, and rearranging all your stuff in the attic* (just like you've been meaning to do for the past five years).
So, if weightlifting isn't for you, I want to encourage you to go into the gym and try a session of weight training. If you're brand new to weightlifting and need some help, a Health Fitness Specialist like me is always waiting here at NIFS to help you get started.
*Individual results vary and are not guaranteed.
***
This blog was written by Aaron Combs, NSCA CSCS and Health/Fitness Instructor. To find out more about the NIFS bloggers, click here.