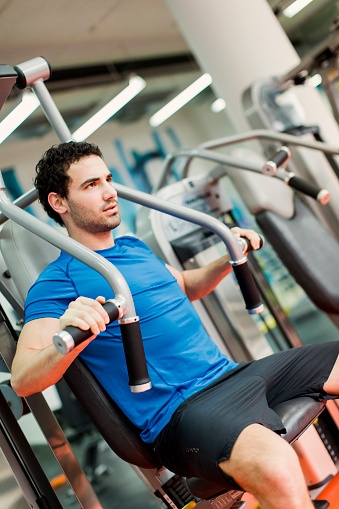 Building muscle is perhaps the most common goal (second to fat loss) of an exercise program. Many people eventually hit a plateau with exercise routines and muscle-gaining processes and find it increasingly difficult to continue putting on new muscle. Once the body becomes too familiar with certain exercises or a certain style of training, your results will be hindered.
However, you might in fact need to take a closer look at your training habits before you jump to the conclusion that you have hit a plateau. Take a look at my top 5 muscle-building mistakes, and how to power through the plateau and continue making gains.
1. Overtraining
Overtraining is a very real trap to which many people trying to gain muscle fall victim. In our society we often think that when trying to gain muscle, "more is better." However, when it comes to training, more is often not better. Only the right amount of the right type of training will be beneficial to increasing muscle in the body.
The easiest way to explain this concept is to first point out that in order for muscles to grow in size (hypertrophy), they must be allowed to fully recover from micro tears experienced during an intense resistance-training workout. If we fall into the trap of thinking more is better, we often find ourselves either doing an absurd amount of sets and reps for each muscle group, or training the same muscle group multiple times a week, and not allowing proper recovery time. While I do applaud the effort in this technique, I have learned from personal experience that sometimes instead of training harder, we must train smarter.
2. Under-training
As opposed to mistake number 1, numerous people also often under-train when working out. Under-training happens when you walk into the gym and head over to the leg extension machine, perform a set of 12 reps at low-moderate intensity, and play with your phone for 2 or 3 minutes while resting, waiting on your next set. When trying to build muscle, the number of reps you complete does not mean anything if you are not bringing the correct intensity to those numbers. If you are on rep 12 and it feels like you are trying to lift a car, you are at the correct intensity for that exercise. If you get to rep 12 and you are already looking forward to your next set because you felt as though 12 reps was not enough, you might not be training with the proper intensity to build muscle. A good workout should come with challenges; therefore, you should almost be reaching failure on each set you do. If a person does not push themselves close to their limits, gaining new muscle and improving lifts will be rather difficult.
3. Avoiding the Hard Exercises
Most of us are guilty of this (including myself). We tend to avoid the hard exercises because they challenge our comfort level in the gym. However, since a majority of the "hard exercises" we tend to avoid happen to be compound exercises, we are actually doing ourselves a huge disservice. Compound exercises are extremely beneficial when trying to build muscle. They tend to use multiple muscle groups at the same time (even the ones we are not accustomed to working out individually). Therefore, compound exercises are great not only for working the major muscle groups in the body, but are also great for working the smaller muscle groups, which will result in improved strength levels overall that should transfer over to other lifts.
4. Failure to Build a Foundation
Before you can move to the "hard" or compound exercises, you must first build a solid foundation through muscular strength, muscular endurance, and proper movement patterns. These three components tie into one another very closely. If a person does not have a solid foundation with correct movement patterns, he or she will be performing compound exercises with improper lifting techniques, causing untargeted muscle groups to compensate. If the targeted muscle is not firing as effectively as it should be within the compound exercise, how can you expect a great deal of muscle growth?
Conversely, if a person has not improved their muscular endurance before attempting to improve their muscular strength, he or she might only be able to lift a certain amount of weight for only a short time (due to lack of muscular endurance), even if the person has learned proper movement technique. Lastly, if a person has not improved their muscular strength, it will be very difficult to continuously improve the weight needed to lift in order to create muscle hypertrophy (or size). So as you can see, building those three foundations first plays a huge role in long-term increase of muscle.
5. Nutrition
The last and arguably most common mistake seen when trying to build muscle is actually undernourishing the muscles themselves. Can you really expect your muscles to be able to grow when you are not giving them the proper amount of nutrients? That's like expecting your car to survive a family road trip from Indiana to California without putting gas in it first. It simply won't happen.
The mistake we usually make is thinking that as long as we are allowing our bodies to be in a "caloric surplus," we will grow new muscle as long as we participate in a consistent resistance-training program. Unfortunately, not all foods are created with equal nutritional value, meaning there are foods we consume on a daily basis that are not giving us the proper amount of protein, carbohydrates, and healthy fats our muscles need in order to grow. Instead they fill us up with "empty calories" (no nutritional value) that include calories from sugar and saturated fat that provide little to no health benefits.
To make matters even worse, you actually intake more calories per gram when you consume fats compared to carbohydrates and proteins.
| | | |
| --- | --- | --- |
| Nutrient | Calories per Gram | Calories in 50 grams |
| Carbohydrates | 4 | 200 |
| Proteins | 4 | 200 |
| Fats | 9 | 450 |
***
Many times people overlook these mistakes when trying to build muscle. However, if you begin to understand that all of these factors play a huge role in the efficiency of the muscle-building process, you will finally be able to get past the physical barriers you have unintentionally created for yourself.
This blog was written by Darius Felix, Health Fitness Specialist at NIFS. To find out more about the NIFS bloggers, click here.