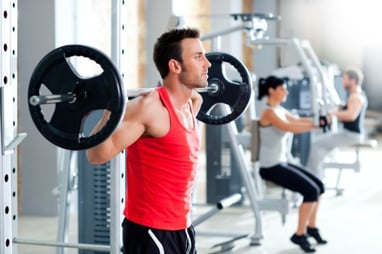 Once you have mastered the basics of cardiovascular exercise, resistance training is the next viable option. If you have no physical limitations (like the ones shown in the Functional Movement Screen), basic resistance training may continue your improvement in building a better body. Remember, not all resistance training is created equal, and the sets, reps, and other variables will determine the result that you receive.
The first goal that I have people focus on is usually muscular endurance. Muscular endurance is the ability for your muscles to withstand a long duration of work. It is important throughout all walks of life, whether it be for preparation for a marathon or doing a day full of yard work. Your goals in everyday life determine your muscular endurance goals and the ways it can be achieved.
There are three variables that are vital to how your body responds to all resistance training, not just training for muscular endurance. Those three are:
Sets
Repetitions
Rest Periods
The number of sets you do during muscular endurance training may be relatively low. For someone new, 1 to 2 sets may be sufficient to see improvement. For those of a higher training level, 3 to 4 may be required. The number of repetitions you perform is the next important variable. If you want your muscles to be able to last a long time, repetitions will be high. 15 to 20 repetitions per set is usually sufficient but some individuals might increase reps above that level. The final variable is the rest period. The rest period between your sets has to be short. Less than 30 seconds is generally the accepted time but time can be whittled down to 15 seconds or less for optimal adaptations for muscular endurance.
This type of training builds that initial workload for the muscles to withstand the heavier/more intense training that could be done in the future. Below you will find an example of a lower body muscular endurance resistance training routine:
Barbell Squat 3x15
Kettlebell Lateral Lunge 3x10/Leg
Dumbbell Step-Ups 3x10/Leg
Hamstring Curls 3x15
Calf Raises 3x15
The next blog in this series will talk about the next phase of building a program, everybody's favorite, building muscle.
Get after it!
This blog was written by Alex Soller, NIFS Athletic Performance Coach. To find out more about the NIFS bloggers click here.