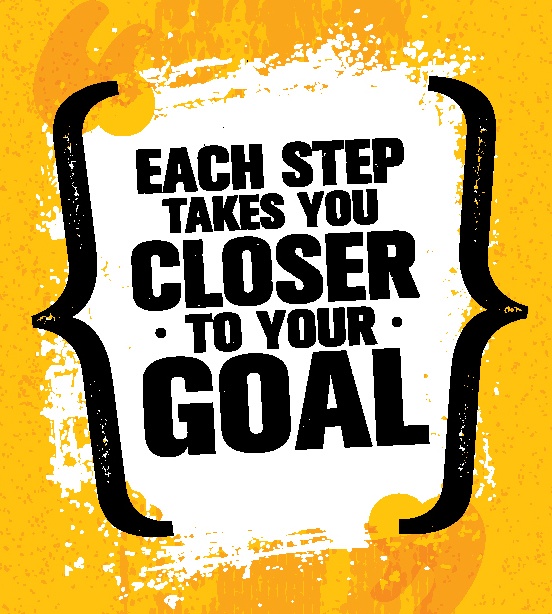 Some people in this world are really good at staying committed to something they have started, but there are many others who struggle with meeting a goal or expectation that they have set for themselves, then actually following through with it to completion. It can be a challenge to hit those markers if you cannot seem to stay committed to something, which in turn leads to discouragement, a sense of failure, and feeling defeated.
The 5 Goal-Setting Tips
If you find yourself needing to restart your fitness plan all the time, take a few minutes to read these 5 tips that will help you to achieve what you want.
Track your stuff. A handful of things are lumped into this category when I say your "stuff": food, workouts, weight, body fat, measurements, and the list goes on. Tracking fitness—where you started and what you are doing—will allow you to see progress over time and keep you committed to what you originally started.
Write down your goal. After you have your goal(s) written down, post it someplace that you can be reminded of it constantly, such as on the fridge, on the mirror, in the car, or at work. Find a place that it will stare you in the face and not allow you to bury it in the "someday" fitness bucket list file.
Establish some accountability. This looks different for each individual. Maybe it's an actual accountability partner who is invested in your goals, or maybe it's being accountable to yourself through writing stuff down, keeping a fitness journal, or using a fitness tracker to push yourself. Whatever it is that will keep you accountable in the times that you are struggling to get done what you need to do, be sure to find that and begin implementing it right away to see yourself succeed.
Join a fitness challenge. Many gyms or even wearables have fitness challenges throughout the year that you can take part in. Be sure to find one and sign up for it right away. These challenges are typically built to get you into the gym a certain number of times per week or keep you on an exercise schedule. Don't be afraid to fail; sign up for one and keep yourself going!
Make it a habit. One of the best ways to ensure that you meet your personal fitness goals or expectations is to make them healthy habits. When something is a habit in your life, it's not forgotten or pushed off to the side. Make exercise a habit in your life so that it won't be compromised when your schedule gets hectic or your responsibilities increase.
If you have been struggling to meet your fitness goals, following these simple steps will get you back on track, and staying on track, in no time. Find out what works best for you and make it a habit.
This blog was written by Amanda Bireline. To read about the other NIFS bloggers, click here.