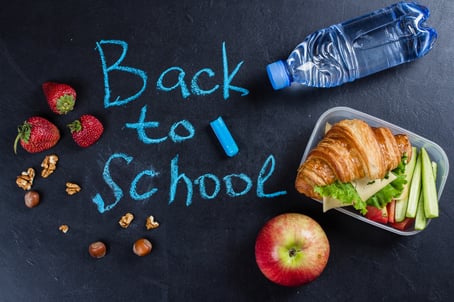 Whether you are starting your first year in college, sending your kids off to school, or are teaching classes this school year, make sure that your nutrition stays at the top of your priority list. It can be easy to get bogged down in your day-to-day routine and quickly lose sight of your goals. Follow these steps to help you stay on track this year.
1. Eat Breakfast
It's okay to be a creature of habit and eat the exact same meal every morning, as long as it is nutrient dense and keeps you satisfied throughout the morning. Pair a little protein (about 15–20 grams) with a carbohydrate. This gives your brain the boost it needs, but also helps keep you full so that you don't arrive at lunch with a growling belly.
A few ideas to try:
Oatmeal with berries and a spoonful of peanut butter (try making overnight oats for easy grab and go).
Scrambled egg with sautéed veggies and whole-grain toast.
Banana or apple slices with a thin layer of almond butter on whole-grain toast.
2. Take Snacks
Your body needs a little fuel throughout the day to keep energy levels high and keep you focused. Just like breakfast keeps you full throughout the morning, you want to make sure you aren't arriving to your next meal famished—otherwise, people have a tendency to eat too much, too quickly. Keep the pantry and fridge stocked with healthy and easy snacks so you can grab one and go in the morning.
A few ideas to try:
The original fast-foods: bananas, apples, oranges.
A variety of nuts such as pistachios, almonds, and pecans.
Hummus and veggies.
Whole-grain crackers and guacamole.
3. Practice Smart Hydration
Skip high-calorie beverages and aim to increase your intake of water. Opt for alternatives like flavored sparkling water, unsweet tea, or fruit-infused water to mix up your choices. (Here are some more tips for proper hydration.)
4. Make a Meal Plan
Just like you plan a time to do homework, work out, or go to sports practice, don't put your nutrition on the back burner to everything else. Sit down as a family or roommates and write out your plan for the week. Start with breakfast—this is often the easiest. Next, plan dinners—dinner often will help you fill in your lunch plans with leftovers. From here, make your grocery list. This not only helps keeping you out of the closest fast-food joint, but it also helps with budgets—a win for everyone!
Meals do not need to be complicated. Keep the Plate Method in mind. Simply try to make half of your plate fruits and veggies, keep protein portions to one quarter of your plate, and make the other quarter of your plate whole grains.
5. Allow for Splurges
After a long day of exams, helping with book reports, or grading papers, everyone deserves a little treat, right? Try to avoid rewarding yourself with food at the end of every day, but also know that if you plan for some of your favorites you will be less likely to over-eat these items when you "cave" at 3 AM on a Tuesday! Take the kids for Friday night ice cream every week, hang with your friends and enjoy a slice or two of your favorite pizza, and then plan to get right back on track with healthy eating after that. One meal or snack will not throw you off track.
Sweet alternatives:
Chocolate hummus with fruit
Dried and pitted dates filled with almonds or dark chocolate
"Nice cream" (frozen banana blended with peanut butter)
***
We at NIFS hope your school year gets off to a great start. Best of luck in the 2019–2020 school year!
This blog was written by Lindsey Hehman, MA, RD, CD. To learn more about the NIFS bloggers, click here.