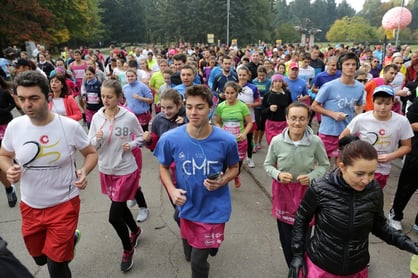 It's staggering how many people in the world are affected directly and indirectly by health problems. You might not have an incurable disease, but there is a chance that someone you love does. Sometimes there are medications and treatments for these conditions, but not everyone receives the attention they need. Sometimes there are no medications. Fortunately, people have organized charitable foundations that help find cures, medicines, and other aid for those in need.
Events for Raising Awareness and Money
In the fitness and wellness realm, it's awesome when those who are trying to help others use fitness activities to help raise awareness and funds for research. In our community alone, there are several organized events that combine fitness and wellness with helping others. You can help yourself by getting exercise while helping others with their situation.
Here are some fundraising events that you might have heard of (and some that you might not have heard of) that incorporate fitness into raising awareness.
Susan G. Komen Race for the Cure: Non-competitive run/walk event dedicated to raising money and awareness for breast cancer as well as honoring those who have or have had breast cancer.
Indiana Tour de Cure: This is a bicycle event centered at the Indianapolis Motor Speedway. Participants enjoy riding on the actual Speedway track as well as several other courses ranging from 50m to 100m in distance. The purpose is to raise money for diabetes research and help those who have it fight the burdens that come with it.
Fight for Air Climb: There is nothing easy about climbing stairs, especially when you have lung disease or any number of breathing-related issues. Fight for Air Climb is hosted by the American Lung Association and is centered around a strenuous stair climb at your local skyscraper.
If you missed these events, don't worry; they will be around again soon. There are other events you can participate in that will help you and other people in need. Check out the Around Indy site for more information.
Try a NIFS Training Program
So, as you can see, being fitness minded doesn't have to end with your third set of 10 on bench press. There are people out there who need support and help to overcome daily strife. NIFS's staff is knowledgeable about events and can help you train for any event you are planning to take on. Help yourself and help everyone else by participating in one of these fitness events.
This blog was written by Thomas Livengood, NIFS Health Fitness Instructor and Personal Trainer. To read more about the other NIFS bloggers, click here.