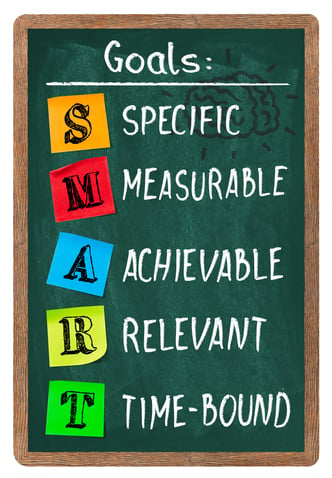 Think about some top goals you have. Maybe your top goal is to lose weight. Your weight-loss journey is what I call the "Big Picture"—your target on losing weight and starting a healthier lifestyle. Sometimes the big picture can be daunting. Many might perceive this goal as too big, or virtually unattainable. But IT IS ATTAINABLE! It just takes focus and hard work.
The best way to accomplish your big-picture goal is to first make the goal SMART (more on that shortly). Then, create smaller, short-term goals that you can check off along the way. These are sometimes called action steps. Action steps will allow you to create small habits that will help you not only REACH your goal, but also ultimately maintain your success.
GET SMART
SMART is an acronym:
Specific: Clearly identify the goal. Be concise.
Measurable: Attach a measure to the goal such as inches or blood-work measurements (%, mg/dL, etc), minutes, or percentage).
Attainable: Ensure that the goals are realistic and manageable. Really think deeply about this. Be honest about yourself and your lifestyle.
Relevant: Make sure the goal is important to you.
Time-bound: Define the timeframe during which you are aiming to achieve the goal.
Here are some SMART goal examples:
I will decrease my mile time from 8:30 to 8 minutes over the next 4 weeks.

I will drink 100 oz of water each day for the next 4 weeks.

I will decrease my HgA1c by 1% in 3 months.
Create Your Action Steps
Now that you have determined the BIG GOAL, it is time to create action steps that will help you reach that goal. Think of these as mini SMART goals.
List 3-5 action steps (or habits) that pertain to your overall goal.

Explain how they will help you reach the big goal.

Decide how you are going to track your success with each action step you take.
Here are some examples of action steps:
Let's use the SMART goal example from above. I will decrease my mile time from 8:30 to 8 minutes over the next 4 weeks. Here are some action steps that may help someone reach that goal:
Run 5 days per week for 15–30 minutes over the course of 4 weeks.

Run 4, 1-mile repeats 1 time per week until I retest my mile time in 4 weeks.

Hire a running coach immediately to assist me in programming a customized running plan.
Questions to Ask Yourself Later
Once you've achieved an action step, ask yourself these questions:
How did you do?

How did it make you feel?

Was it easy to do, or were you pretty challenged to stay on track?

Does it still pertain to your overall goal?

What worked and what didn't?

What needs to change?
The answers to these questions will help you determine whether you are staying focused on your goal, whether you are ready to take on or create another SMART goal, or if you need a little more time to concentrate on the one you are trying to turn into a habit.
Once you feel that you have accomplished your goal, work on another. Make changes and adjustments as needed throughout your journey. And even though these steps seem small, they ultimately lead to a large reward.
Check out this blog for an even closer look at the goal-setting process and why it's important!
This blog was written by Sabrina Goshen, NIFS Registered Dietitian. To learn more about the NIFS bloggers, click here.